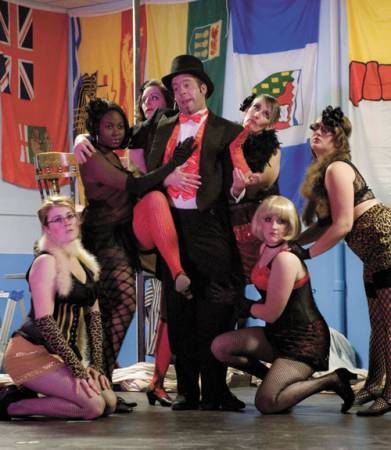 The Kaleidoscope Theatre will have one more production before moving back home to their Drumheller Composite High School location.
    Details are yet to be finalized but president Megan McLauchlin told inSide Drumheller they were hoping to produce the musical comedy, I Love You, You're Perfect, Now Change, in the fall as their final show before going back home.  The show will be directed by vice president Colin Regamey.
    "It has been very hard putting on a play without our theatre," said McLaughlin, explaining all the work this entailed, such as needing to rent space, sound and lighting equipment, building a stage and having limited access for rehearsal.
    "Putting on a show is quite a big undertaking, and it is double or triple the work when you are not in your location."
    Although challenging, working without their theatre has also been interesting, said McLauchlin, adding "I don't know if Cabanet would have been as good in a big theatre, because it would not have been so intimate.  At the Navy League building, you felt like you were in a little cabaret club in Germany. Whereas I think if we had done it at the Kaleidoscope, it could have been a whole different show and might have had a whole different feel."
    While they are hoping to start auditions for the next show in September, the team has been busy doing casinos to raise money to give the theatre a bit of a makeover when they are able to move back to their premises in January 2011.     "We are actually revitalizing the theatre's interior," said McLauchlin. "We will be putting in new seats and repainting. We also have a volunteer designer helping us, it will look like a new space."
    For the grand re-opening, McLauchlin said they hope to produce a big musical in late spring, early summer 2011.