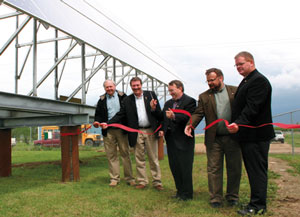 Even on a cloudy day, things are bright and strong for Delia's new solar project.
And powerful too!
In fact, on the very day that saw the unveiling of the solar project, which is now powering Delia's water pump station, the array of panels was producing surplus energy, sending power back to the grid.
On Friday, June 6, the Delia Solar Project was officially unveiled. Starland CAO Ross Rawlusyk, Starland Reeve Barry Hoover, Delia Mayor Gordon Isaac joined the Honourable Jack Hayden Minister of Infrastructure and Gerhard Schwarz of ATCO Electric to help cut the ribbon for the project that has been four years in the making. The project was a joint effort with Starland County, the Village of Delia, the Village of Munson and the Village of Morrin, all contributing.