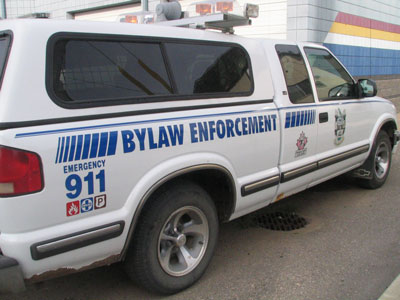 The Town of Drumheller is pleased to announce the appointment of Mr. Darcy Nundahl, as the Supervisor of Bylaw Enforcement.
    Mr. Nundahl joins the Town of Drumheller following 18 years of experience with provincial and municipal government organizations including the Edmonton Police Service, City of Leduc and Kneehill County.
    Mr. Nundahl brings to the Town an impressive skill set focused on the enforcement of community standards ranging from all municipal bylaws in addition to capabilities for enforcement of motor vehicle traffic including commercial vehicle weights and dimensions. His background also includes an impressive educational background as a graduate of Grant MacEwan College's Law Enforcement Diploma program as well as a having a Certificate in Police Leadership.
    Mr. Nundahl is a proud husband and father of 4 and a resident of the Town of Drumheller who is looking forward to the new challenges of his new assignment.
    The Town of Drumheller takes an active and informative approach to bylaw enforcement by ensuring that our citizens have a high level of awareness of community expectations.
    This approach ensures greater adherence to the community standards that make
Drumheller an attractive community for all residents.
    The Mayor, Council and Administration of the Town of Drumheller wish to congratulate Mr. Nundahl as he moves into his new role.