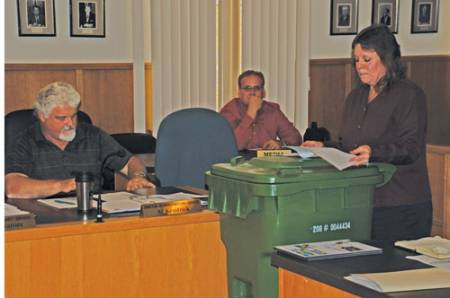 The Town of Drumheller has issued tenders for contracts on solid waste collection, inviting eligible companies to quote for residential and commercial contracts separately or jointly, using an automated cart collection and based on a volume equivalent to five bags a week. 
    A request for quote has also been issued for the new residential trash carts that the town will be buying and distributing to residential properties.
    Currently, waste collection is done by the town and includes collection for both residential and commercial, as well as offering free recyclables collections from businesses using the recycling bins provided.
    When the decision was made to change the collection to an automated cart system, some businesses asked council to consider opening the commercial collection to free enterprise and thus opening the market to several companies. 
    Some businesses prefer having the choice of who to use for their waste collection.
    Tenders are requested for both separate or joint contracts and this will also show the economy of scales.
    Once the tenders are received, council will make a decision on the way forward.
    Benefits of using an automated cart collection for waste disposal are many. 
    For residents, it will offer a cleaner and easier way to dispose of waste.  Carts can be kept in the back yard and filled on an ongoing basis, and rolled out for collection on the appropriate day. They will also act as an enclosure so will keep animals out of rampaging through the garbage.
    Automated cart collections also provide a quicker and less physical garbage pickup, so using this type of collection reduces the loss of man hours due to injury from fatigue and lifting, as well as a cost saving as only one person is needed to operate the automated pickup vehicle.
   The new system is expected to be rolled out on July 2, 2010 depending on the tender that will be awarded, and how long it will take for the company to be equipped with the appropriate  pickup vehicle.
    In the longer term, town will also be looking at the feasibility of introducing recycling carts. However, currently, Drumheller does not have the facility to handle individual residential recycling. 
   Drumheller is one of the few municipalities in Alberta where solid waste collection cost to residents and commercial businesses is not a utility based rate, and is included in the property tax.