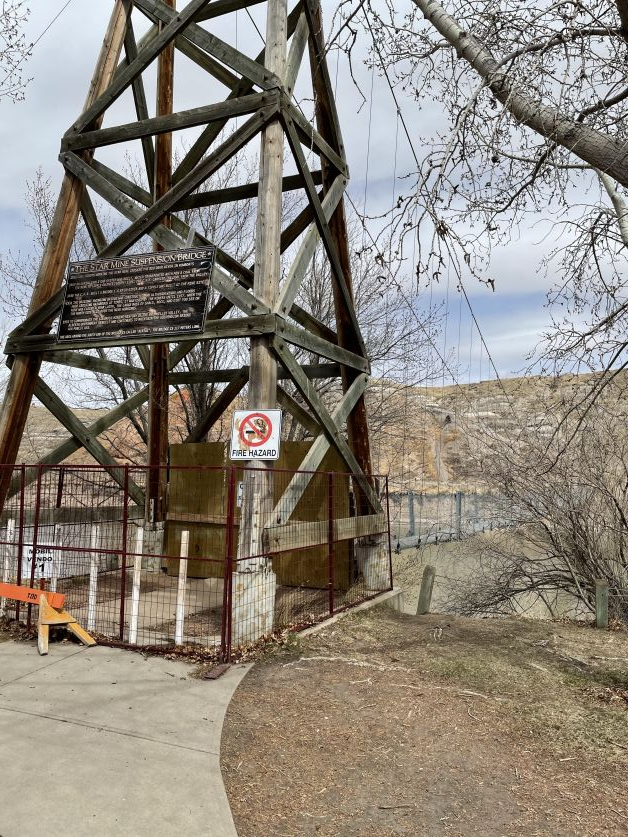 The tender to repair the Star Mine Suspension Bridge, which has been closed to the public since April 2020, was awarded during the Town of Drumheller regular council meeting on Monday, October 16.
Structural concerns had been identified during a routine bridge inspection in the spring of 2020, which prompted closure to the public for safety reasons, and repairs and reopening of the bridge were delayed due to ongoing landowner negotiations for access to the north side of the river.
"Realistically, our delay in opening (the Star Mine Suspension Bridge) was due in large part that the land the bridge sat on was privately held," explains Chief Administrative Officer (CAO) Darryl Drohomerski. "Ultimately we came to an agreement (with the landowners) to purchase it earlier this year, which then allowed us to move forward with the plans to do the work."
A total of four bids were received at the time of the tender closing, ranging from $274,700 to $666,794; council awarded the tender in the amount of $274,700, excluding GST to Volker Stevin Highways Ltd.
The repair work will entail "two major components," according to CAO Drohomerski.
The first portion of work will require repairing a washout on the north side of the bridge in order to gain access; Volker will also need to install culverts to help prevent future washouts from happening.
Once this is completed, Volker will then be able to begin repairs on the pier and post which were of initial concern. A large crane will be required to support the bridge during this portion of the repairs.
Alberta Transportation provided $200,000 in funding to support the project, and an additional $152,600 is being requested as part of the Town's 2024 Capital Budget funding.
While the repair will include some municipal funding, CAO Drohomerski shares, in the future, funds from the paid parking program could help to offset these types of costs.
"Being able to use paid parking funds from the Suspension Bridge area to help offset the cost of maintaining the bridge, in our minds, is paramount to the long term success of it. Most residents don't appreciate the size and scope of some of this work that's required to maintain infrastructure that we all take for granted," he says.
Construction and repairs are expected to be completed by the end of April 2024 to allow the Star Mine Suspension Bridge to be reopened for the 2024 tourist season.