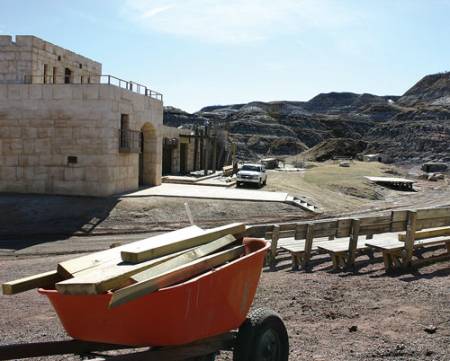 The Canadian Badlands Passion Play Site is undergoing some renovations to make the site service it patrons better moving forward into the 2010 season.
    A crew is hard at work making some changes that will help the site going forward. This includes work inside and outside the Jerusalem Wall, the stage, the amphitheatre and the lodge.
    Mitch Derosiers, a contractor and player at the annual staging of the Passion of Christ is heading up the renovations. He says one that patrons of the Passion Play will immediately see is the addition of about 150 sets to the amphitheatre. Last season was one of the best on record for the event, and the addition of seats will allow even more to enjoy one of Canada's top cultural attractions.
    As well, Derosiers points out they are adding a dedicated site for those with accessibility difficulties. While the Passion Play has made the effort in the past to serve those with mobility issues, the new area will help even more.
    There is also work being completed on the stage to make the set comply with safety codes. There are also improvements including adding more showers to the lodge area for performers and volunteers.
    One change that may not be as apparent to patrons is a new office space for management and administration.
    The offices will be moving into the Jerusalem Wall.  They are creating about 600 square feet of office space upstairs. This will include washrooms and a break room, while maintaining a large rehearsal area.
    At one time, the upstairs of the Jerusalem Wall was used as an interpretive centre with artifacts relating to the Passion Play. Derosiers says they are planning to move it to the main floor near the concession where it will be exposed to more foot traffic. They will be beautifying the area north of the Jerusalem Wall with landscaping to create a green park space as well.
The crunch is on according to Derosiers as rehearsals begin in about 6 weeks and the annual Passion Play will hit the stage come July. Evening performances are on July 9, 10 and 16 to 6 p.m. and afternoon performances, commencing at 3 p.m., are on July 11, 17 and 18.