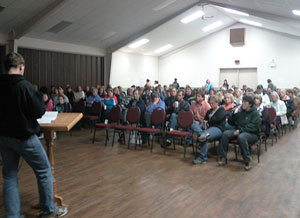 The Carbon Parents Advisory Council (PAC) held a community meeting on Friday, April 30 to discuss concerns brought by the Golden Hills School Division (GHSD).
    At their board meeting, held on April 13, the GHSD discussed the constraints of the provincial education funding announcements for 2010-11, and noted a growing gap between revenue and expenditures, and how declining enrolment, particularly for schools in rural areas, impacted funding negatively as it is enrolment-driven.
    As a result, the board is assessing two schools with low enrolments; Carbon High School, with 26 students projected to enrol for next year, and Hussar Junior High School, with four students projected.
    Alternative programs are being considered: triple grading, distance learning and virtual programming, to address low enrolment challenges.         However, the board said the programming and delivery methods for students would be restricted and may not provide the best learning opportunities for all students.
    To discuss this, the board of trustees are inviting parents of Grades 9-11 students in Carbon to discuss this on May 6.
    Parents of students in other grades are concerned with the proposals and arranged the meeting on April 30 inviting teachers, the school principal and GHSD board member, division contact, Shirley Buyer, to attend and answer questions the community had.
    Neither school staff nor Buyer attended the community meeting.
    Carbon School principal, Dave Stewart, told The Mail on Friday, "At this point, I would prefer not to go [to the community meeting]. I want to be a source of information, and if parents want to come to talk to me about school programs, I'd certainly sit down and talk to them. I think it would be the most beneficial use of my time so they know and understand what is happening here."
    Stewart also confirmed he had been having discussions with school council president, Danny Clow, who was attending the community meeting, and gave him information about the proposals.
    Ron Kenworthy, chair of the GHSD, told The Mail on Monday, "It was a school council meeting and as far as I can determine, the school board was never invited so they had their meeting."
    He added "Shirley Buyer may have been invited, but not the school board. I talked to Shirley and she made it plain to them that she wasn't going to attend. I think she felt it might be an awkward situation for her to attend that meeting and because we are going to consult individually with the parents on Thursday, we will be getting the information directly from the parents involved."
    Jeannette Giesbrecht is a concerned Carbon resident who has one child graduating this year and one going into Grade 11. She also has two grandsons in Kindergarten and Grade 1.
    Giesbrecht told The Mail the community meeting was attended by over 130 students, parents and community members voicing their concerns.
    During the meeting, she said they discussed whether the enrolment decline had been a signicant one as, reviewing the figures, they only saw a slight decrease over the last 10 years.
    They also discussed funding for the school and whether they were getting the appropriate grants.
    They reviewed where further savings could be made, for example by shortening the school year, as done at a school in Kamloops, BC, saving them a substantial amount of money.
    Another point which was brought up was according to the GHSD website, 32 students from the Carbon area were currently being bussed to other schools in the GHSD. This raised the question of the cost implications and whether this should be permitted when there was a fully sustainable school in town.
    Parents and community members were asked to work together to find answers to the questions raised during the meeting.
    Speaking on behalf of the attendees, Giesbrecht concluded, "The general consensus is that we as a community will stand united against the GHSD on any closures. We want to keep our school K-12. We want our children to be able to continue to receive a quality education in a small school environment.
    The school board needs to look a little closer at the long-term effects of their decisions. You are putting entire small communities in jeopardy of closure, not only the schools. Your decisions are affecting the lives of families, business owners, property owners and most of all our children."
    Also affected by enrolment decline and the 2010-11 budget, Hussar Junior High is looking for an interim solution, currently to send students to Strathmore and Drumheller schools, while supporting an East Wheatland stand-alone school grouping students from Hussar, Standard and Central Bow Valley in Gleichen.