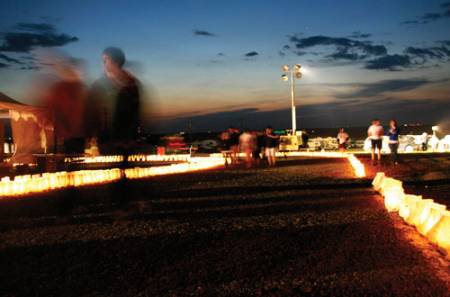 The fourth Relay For Life in Drumheller is coming up on Friday, June 11, and the event sparks a fire with all who participate.
    One of the most moving parts of each year's event is the Luminary Ceremony. This is a chance for everyone in the community to take a moment and reflect on those who have won their battle with cancer, those who have lost, and those who are still fighting.
    "It is very personal, and everybody has somebody (they know with cancer)," said Teri Sparkes, luminary chair. "It is a part of the night where people can all remember and honour people who have been affected."
    Luminaries are simple. They are paper bags that are available online or from the Scotiabank in Drumheller. Those who purchase a luminary can write their wish, the name of the person to who they are dedicating the luminary, and decorate it how they choose.  When the ceremony begins, a candle is placed in each bag that lines the Relay For Life track as a vigil and lights up the walkers' route on their way to remembering, celebrating and fighting back.
    "I've had people purchase them for loved ones they have lost, or people who are currently battling, or people that have beaten cancer, so literally it can be anything," said Sparkes. "The main focus of the entire event is celebrating and remembering."
    While luminaries are available onsite during the event, she is hoping those who want to purchase them beforehand will go to Scotiabank or simply log onto www.cancer.ca and follow the links to the Drumheller event.
    For more information, or to purchase a luminary, contact Sparkes at 403-820-6718.