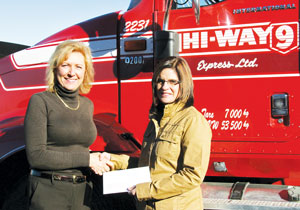 The Rotary Club wants Drumheller high rollers to belly up to the table and put their money down for youth in the area at its Vegas Night.

    On November 6 the Stampede Barn is going to be transformed into the floor of a swanky Vegas casino. It is all in support of the development of youth programs by the Rotary Club.
    The doors open for the fun money casino at 7 p.m.   Featured games include a Mini Texas Hold'em tournament, Black Jack, Roulette, and under over seven.  The bar will be open and there will be appetizers served.
    This is a new endeavour for the Rotary Club and Rotarian Michelle Kendell says they are excited for the prospects.
    While it is a fun money casino, there are some great prizes up for grabs. These have been donated from local businesses as well as residents, and Kendell said they are more than prizes, but prize experiences.
    For example, a barbecue gift prize may be more than just a barbecue, but a meat pack and barbecue utensils as well.
    The featured prize will be a draw for a $1,000 travel voucher.
    Information or tickets are available from any Rotary member, or by calling 403-820-2538.