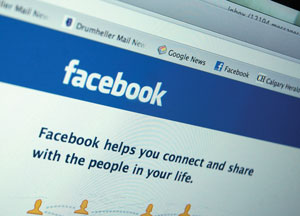 A Drumheller individual is facing charges after allegedly defamatory comments were posted on the social networking website Facebook, and is scheduled to appear in local court Friday, Drumheller RCMP detachment members say.     RCMP have been investigating the case of defamatory libel for two months, and say it is the first case the Drumheller detachment has seen involving the popular website. Police would not release the name of the accused who posted the comments.
    Social networking websites have opened up a gambit of new issues," said Drumheller RCMP Corporal Mike Black, who has been investigating the alleged crime. "Charges like this used to mainly be restricted to newspapers and radio."
    "People need to realize they can be held criminally responsible for comments they post. Once it's out there, it's out there forever and for basically anyone to see."
    Individuals can be charged for writing defamatory comments in public view. Black says speaking your opinion about someone is different than writing it down for the world to see.
    "People typically think that if they bad mouth someone, it's a civil matter. Be aware that it's a criminal matter when posted in public."
    RCMP said the maximum prison term which could be laid against an individual found guilty of defamatory libel is five years.
    "With the advent of social websites like Facebook, there are people who are writing things that are derogatory or defamatory against other people. A person is responsible for what they write on there," said Drumheller RCMP Staff Sergeant Arthur Hopkins.
    Black said with any case involving computers, a significant amount of resources are eaten up by securing search warrants for the individual's computer, and in this case, from Facebook itself to retrieve the comments.