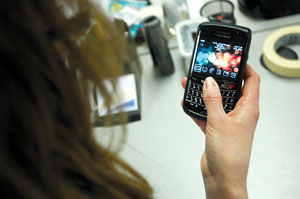 Tourists roaming the valley will soon have an app for that.

    After Drumheller's acceptance into the tourist association Boomtown Trail two months ago, valley attractions and trivia will be available for download on smartphone devices through the organization's in-development application.
    A private testing will be held in Drumheller during a focus group on Saturday, March 12.
    At this stage in development, 12 locations will be provided to users with information from the Atlas Coal Mine and other tourist attractions.
    Called 'locative media', it's like "having a personal tour guide on your smart device," says Boomtown Trail CEO Ken Duncan. "We're working on the iPhone and iPad format, and after that's finished we'll port it over to Blackberrys, Android phones, and other smart devices.
    "You could be driving down the highway, and when you get to a certain point, because of the GPS feature (in the phone) a recording will give you an opportunity to stop at a point of interest, whether a historic building or attraction," says Duncan, adding video can also give insight into historic sites that used to be.
    All communities in  Boomtown Trail will be incorporated into this app.
    Integration with Facebook, and user uploads are going to be possible, says Duncan. He says this may be one of the first applications of its kind in Alberta. "We think we're pretty close to being out front."
    At the focus group, initial versions of the program will be available to select attendees to provide feedback on the program.
    "We're looking for feedback on what works, what doesn't, and we'll be observing people to see how well the program works," said Duncan.
    The Boomtown Trail organization reaches as north as Camrose, all the way south to Bassano.
    There was no release date provided, as the program is currently being designed.