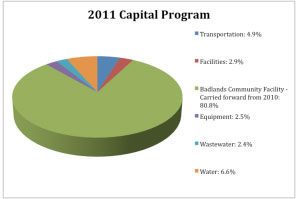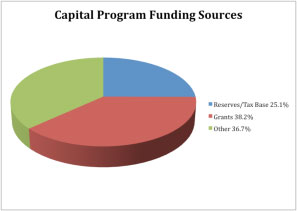 Council approved the 2011 Capital and Operating Budgets at Monday's town meeting, seeing the bulk of funds set aside for the new Badlands Community Facility.

    The total capital budget tallies in at $24,639,447.00, with 80.7 per cent allocated for the sports facility, 6.6 per cent for water, 4.95 per cent for transportation, 2.9 per cent for facilities, 2.4 per cent for wastewater and 2.5 per cent for equipment.
                                                            "The capital budget will maintain the Town of Drumheller's commitment to infrastructure services and the Badlands Community Facility while holding the line on spending," Mayor Terry Yemen said in a media release issued after Monday's meeting.
    "The majority of our infrastructure capital comes from various grants such as the MSI, SIP, and Federal/Gas Tax Fund."
    The capital budget is funded through the following sources: 25 per cent derived from the town's reserves and tax base, 38 per cent will come from provincial and federal grants, and 37 per cent will come from fundraising for the community facility.
    Highlights of the budget include: continuation of the cast iron water line replacement program ($1,020,000), Solar Bee Aeration Project which will ensure additional water clarity after murky water found in resident's taps last summer ($250,000), sanitary sewage and treatment improvements/maintenance ($580,000), the Street Rehabilitation Program which provides normal road repairs and maintenance ($1,196,000), and preliminary engineering and design to provide a transmission line from Cambria to East Coulee so residents are provided town water ($100,000).
    "Ideally it would've been nice to be done in December," says Director of Corporate Services Michael Roy. "But with workloads and a new council in October, the biggest slowdown was getting up to speed."
    The 2011 Operating Budget was drafted and approved in 2009 as a three year budget.
    "The revenues we anticipated are the same, most of the changes we're looking at are mostly on the expense side – moving money around within departments," Roy said.
    "We're still going with the same user fees we were anticipating," adding the planned 3 per cent hike in tax revenue still stands, with another 1.5 per cent anticipated to come from new assessment growth.
    The 2009-2011 Operating Budget can be viewed on the town's website, www.dinosaurvalley.com.