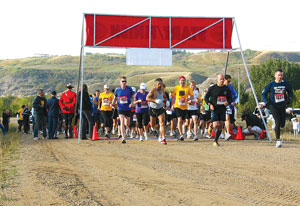 While the second annual Dinosaur Half is not until September, it is time to start thinking about getting in shape if you choose to take on one of the three courses offered at this year's event.

    This year the Dinosaur Half is back and even bigger. It has added a 10-kilometre run to the event, which already has the 21-kilometre half marathon and the five-kilometre trek.
    Organizers have mapped out the 10-kilometre run and it will start at the Royal Tyrrell Museum and head through McMullen Island and Midland before returning to the finish line at the museum. There are no changes to the five-kilometre run or the half marathon course.
    Race director Colin Kloot says they expect a full compliment of runners at all levels. Registration will open on April 1 and close at the end of July.
    He says because they fully expect the event to fill up, runners should seriously start considering whether they plan to attend the race and not wait until the last minute to register.
    Part of committing to take on one of these runs is not just registering, but making sure you are able to complete the run. The website www.dinosaurhalf.com has a link to Jeff Galloway's website. He is a former Olympic runner who has training regimes set out to take runners from the television to the track.
    He provides a 20-week program to train for a half marathon as well as training regimes for 5k and 10k races. If you haven't laced up a pair of shoes for as long as you can remember, he also provides an eight week conditioning regime to get potential runners up to speed before they start training.
    He also has advice on nutrition, avoiding injuries and motivation.
    More information on the race, how to prepare and how to get involved can be found at www.dinosaurhalf.com.