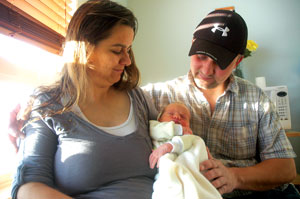 The stork delivered 2011's New Year's baby swiftly and smoothly at 4:36 a.m. on Saturday morning, as Kyle Loewen was welcomed into the world by parents Eva and John.

    "Before, it was just the family who knew," laughs Eva, the mother of three, at their home near Hussar, "now the whole town knows."
    "It's exciting, we've been getting a lot of attention and nice wishes."
    Eva, a stay-at-home mom, and John, who lays granite for a local Hutterite colony, rushed into the hospital at about 3:00 a.m. on New Year's Day and Kyle was born shortly after in what had been Eva's easiest labour.
    Kyle, born weighing 7 lbs. 3 oz. and measuring in at 20 inches, now joins his brothers Joseph and Joshua.
    "I was hoping for a girl and I think he was hoping for another boy," said Eva about her and her husband's wishes.
    "It wouldn't have mattered," John chimes in.
    The ultrasound prophesied Kyle would be the New Year's baby, but the doctor had the due date pinned to January 6. They figured he would have come this week.
    The Loewens have lived near Hussar since May, and only came to Alberta two years ago after moving from Ontario. Eva is 26 and John is 28.
    "We want to say thanks for the gifts and best wishes," the couple said.
    The family will be making their rounds to pick up a long list of prizes from the following businesses who donated items for the New Year's family: Yavis Family Restaurant, Wade's Jewellery, Hi-Way 9 Express, Vietnamese Noodle House, Badlands Barber Shop, Canadian Tire, Sears Drumheller, WHIFS Flapjack House, Sunrise Auto Sales, Boston Pizza, Bevan Scott Salon and Day Spa, EconoLodge Inn and Suites, Fred and Barney's Family Restaurant, SJ Fashions, Top-Waste / Peaches Portables, DeMott Floors, TD Waterhouse, Valley Truck and Car Wash, Vintage Pub and Grill, Curves, Century 21/PowerRealty.ca, Cut Loose Hair and Body, Drumheller Public Library, O'Shea's Eatery & Ale House, Reality Bytes, McDonald's Restaurant,  Over the Rainbow, Allied Distributors, Tone Communications, H&H Optical and Hearing Centre, Riverside Value Drug Mart, Diosa Spa, ImageCrafter Signs, Oasis Car and Truck Wash, Hi-Way Service, UFA, John Sparling QC,  Freson Bros, Dinosaur Trail Golf and Country Club, The Brick, Shoppers Drug Mart, Chiropractic Wellness Centre, Evergreen Equipment, The Inn & Spa at Heartwood, Drumheller Co-op, Looking Good Fashions, Napier Theatre,  ATB Financial,  Bit's and Pieces Keepsake Quilting, Subway, Barcomp, Midfield Supply,  Fountain Tire, Drumheller and District Chamber of Commerce,  Greentree Liquor Mart, Stavros, Gus's Corner Restaurant, Reg Gallagher Trucking, and Fine Photography.