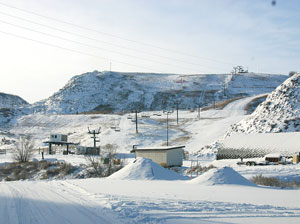 The Drumheller Ski Club 1997, has been reinstated, however there is much ground to cover before there will be skiing in the valley this winter.


    At last week's Drumheller Town council meeting, councillors voted down an offer drafted to make to the new Drumheller Valley Ski Club (Friends) society.  There were a number of concerns including the valuation of the land, and whether the new society would have legal rights to the assets of the former club. This was all complicated further by the foreclosure action on the ski hill and in light of another private suit.
    On Wednesday afternoon, Zrinko Amerl announced the former Ski Club had been reinstated.
    "We received the paperwork from Corporate Registries at 2 o'clock this afternoon," said Amerl.
    He said this helps with the bid to open the ski hill.
    "This puts a whole bunch of things back on line," he said.
    Mayor Terry Yemen says this was a positive development, but there is still a lot of work to be done before the hill can open. He said, based on the proposal made by the Friends of Ski Hill Society, the two sides are still a long way off on making a deal. Yemen said the proposal came up short on funds and it didn't meet some of the requirements of the original deal.
    These stipulations include payment of the outstanding water bill and installation of a water meter, and a guarantee there will be insurance on the property.
    "There is an issue with the "friends" (society) as to what kind of assets they are entitled to," said Yemen.
Even though the former society has been reinstated, there are still more concerns.
    "Initially we thought we were going to put the lease document through (Town of Drumheller draft voted on last Monday), and had good support for it, until we found out there had been a foreclosure order, and then another civil action by another company, everybody kind of pulled back because we are not going to take an asset and put it in peril," said Yemen.
    "Our hope is that when we sell the asset it is going to be a ski hill for years, we don't want to put it in peril and have it go to court and have someone seize it on some sort of a judgement and it is lost to the people of Drumheller."
    He adds, there is work to be done with the Passion Play and the ski hill to rectify issues.
     He also says any agreements that were on the table with the ski hill when it lost status are invalid, and any agreement made now will be new.
    As for the society being reinstated, "It's a positive step, but it is a small step, and there are a whole bunch more that need to be taken," said Yemen.