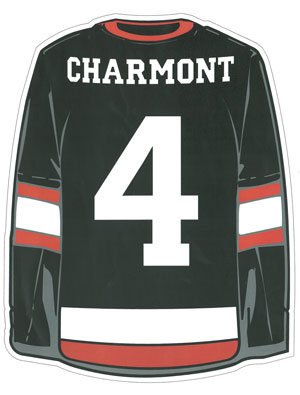 It may be a long while before friends of Chris and John Charmont see some normalcy following the tragic events in Mexico last Sunday morning.

    The father and son died in a blast at a hotel resort, and the reverberations have been felt around the world. There is nowhere they have been felt more, however, than in the Drumheller valley.
    For the first time since the tragedy, the Encana Atom 6 Raptors gathered for practice on Wednesday night. This is the team that Chris managed and John was a player.
    "It was tough," said assistant coach Paul Salvatore. "As kids and parents you spend every weekend and at least one night a week together as a unit. We just wanted to make sure everyone understood what was happening and the days ahead, and we are going to support each other as parents and players."
    The team signed a banner  to present to the family at a service, and at the family's request they are going to continue to play at a tournament in Strathmore this weekend.
    "We know that's exactly what Chris and John would have wanted to see, is for us to go and play hockey," he said. "We are definitely trying to pick ourselves back up, but it will take some time to get there."
    The team is supporting each other and showing support for their teammate. Minor hockey has designed a patch with their teammate's name and number on it. They, along with the Atom 6 Raptors, will be wearing it on their jerseys in remembrance.
    The support continues to pour in for the family as the employees at Encana and Cenovus, the employers of Chris and his wife Terra, have set up a trust fund.
    There is also support for the young people in the valley who knew and loved the family.
    Both Greentree School and St. Anthony's are giving support to the children affected in the form of providing counselling and talking with classes.
    Dave Watson, family resource worker at Greentree School, said many of the children who knew nine-year-old John are in Grade 4 and are old enough to know the weight of the situation. He said that children are very much like adults in they all grieve in different ways.
    "They go into a bit of shock," he said. "Close friends tend to be the ones hit hardest at first. There are kids (whose reactions) range from 'I never knew this person,' to 'I just spent last weekend with him.' So there is a wide variety or responses. The classroom is affected highly."
    He said right now they are working on preparing the children before and after the funeral.
    "You never know how they are going to react, sometimes they are quite resilient, withdrawn or quiet, and sometimes the let loose, because everybody grieves their own way," he said. "Our job as adults, parents, friends, and counsellors is to just let them know they are allowed to grieve, because sometimes they feel like they can't or shouldn't, or it is not cool. We need to let them know there are ways to do it, and they can choose the way they do it."
    He said parents play a big role in helping the youngsters along, and Greentree School has sent home materials to help families work through the response to this tragedy. Grief may come suddenly or it may linger for some time. It may come out at a later date, or reappear down the road.
    "The thing we need to ready ourselves for is to be prepared for their individuality," said Watson.