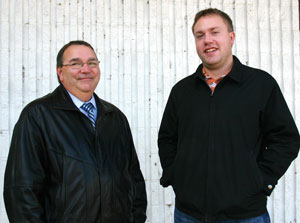 Starland County has a little more help as Matthew Kreke has taken on a number of projects for the county.

    The Mail reported in its June 3 edition that Starland County had then taken advantage of the Municipal Internship program, and had taken on John David Malta. While he did not complete the program, Starland was able to fill the vacancy, as Kreke came on board.
    Kreke graduated from the University of Regina with his Masters in Public Administration, and completed the first year of the Municipal Internship Program with Newell County.
    He says he is enjoying the experience in Starland County.  He is able to spend more time working with CAO Ross Rawlusyk learning more about administration.
    While it is an internship, Kreke is taking on major projects including working on the economic development committee, working on grants, succession planning and land use planning.
    The Municipal Internship Program was introduced in 2002 as an effort to train and recruit administrators to meet present and future demands. The program funds municipalities to take on an intern for a one-year period, and has since expanded to offer a second year option. It also offers an internship for land use planners.