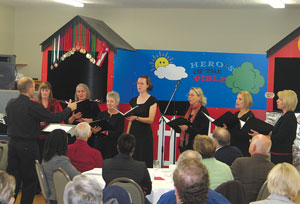 It went so well last year, the Passion Play is doing it again, inviting the mayor to breakfast.

The second annual Mayor's Prayer Breakfast is set for October 6 at the Rosedale Community Hall.
Billed as a quiet way to re-affirm faith in God and an opportunity to participate in fellowship, it is designed for business and community leaders.
Last year about 80 attended the event, which included music and Pastor Lloyd Huber as guest speaker.
This year the guest speaker is Wayne Hove, general manager of the Community Futures Big Country.
The Canadian Badlands Passion Play is sponsoring the event that goes from 7:30 a.m. to 9:30 a.m. on Wednesday, October 6.
Tickets are available at the Passion Play office, Drumheller Centre of Natural Healing, The Brick, the Drumheller and District Chamber of Commerce and Town Hall.
For more information contact the Passion Play office at 403-823-2001.