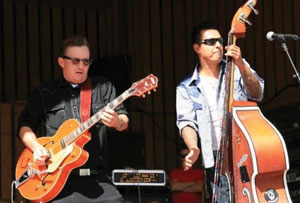 Rock and roll is living on the fringes of everything else, mixing influences and carving out a new direction.
    This is the same formula Elvis had, as did the British invasion, taking UK teenagers and injecting rhythm and blues.
    These are the footsteps that Hurricane Felix an the Souther Twisters are following.
    The Rockabilly trio is playing Outlaws Saloon for New Year's Eve. The band combines  the roots of subversive rockabilly, real rebel rock and roll, with a diverse mix of influences, including members of the band's Latino background, country, punk and burlesque dancers.
    "Hurricane" Felix Calderon  says this is the first time the band that includes Calderon on the stand up bass and vocals, Earl Garnett on guitar and Calderon's brother Santo on the trap kit, have ever been to Drumheller.  A first listen to their latest release has the sonic feel of the grease-monkey wrong side of the track rockabilly of the 50's, singing about drag strips and dangerous curves of all kinds.
    On the surface it has the old sound, celebrating Detroit Iron, but there is an undeniable swagger to the sound that may come from two of the members coming from a Latino-Canadian home, and their experiences growing up.
    "I moved a lot when I was young. We lived in LA for a few years and definitely got the feel of the whole culture, from the grease to the leather jackets and the music and how all that ties together," said Felix. "And being Latino from El Salvador had a lot more to bring to it, with the flavour of the rockabilly."
    Rockabilly is garnering a following in the Calgary music scene, and Hurricane Felix have been on the leading edge, including pioneering a gig that combines the trademark stand-up bass slapping and a burlesque show. They have been getting rave reviews as they branch out away from Calgary and into Lethbridge and Edmonton.
    "As far as being in a rockabilly band too, you always have to keep on top of it, you don't want to  be the same, but then you really don't want to go out of your realm," he said.
    That realm is ever expanding. He says playing the stand up bass is versatile and lends itself to the hillbilly country sound, jazz and even polka riffs. Now a trio, Hurricane Felix has, at times, brought on pedal steel, saxophones and even banjo to the mix.
    The result is a danceable mix that is all rock and roll.
    Hurricane Felix and the Southern Twisters are appearing at Outlaws Saloon on Thursday, December 31, with special guests the Ronny Hayward Trio, another well seasoned Rockabilly act that has toured extensively throughout Canada and Europe.
    Tickets are limited for the show hosted by Outlaws Saloon and Ink Slingers Tattoo. The night includes a free shuttle service  from Outlaws to Mac's Convenience Store, door prizes and giveaways. Call 403-823-7799 for more information.