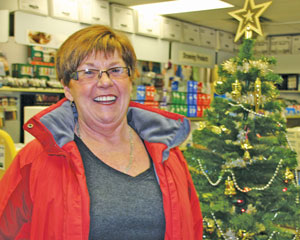 The results are in  and local shopper Nancy Kiss won the Drumheller and District Chamber of Commerce's Christmas giveaway.
    This year the chamber's annual Christmas contest, where local shoppers enter to win weekly prizes from area merchants, and then   are entered in a grand prize draw for $1,000 dinosaur dollars, concluded on December 19. This year the contest also awarded 10 runner up prizes for  $100 dinosaur dollars.
    Kiss told inSide Drumheller, December was always her lucky month an in fact the win came close to her birthday. While some have concluded she must have entered the contest a great number of times to win, she said she simply shopped as she would regularly, and entered whenever she would get the chance.
    While she has no immediate plans for her winnings, she says there are few things she needs at the Brick.
    Other winnera included Darlene Alford who won $500 dinosaur dollars, and Bonnie Chambers who won the third prize of $250 dinosaur dollars.
    The 10 consolation prizes went to Marie Fairhead, Candy Lefferson, Jesse Axelsen, Greg Jacobsen, Sharon Garner, Jo Anne Baird, Larry Poland, Margaret Tabert, Alice Wilson and Diana Wolf.