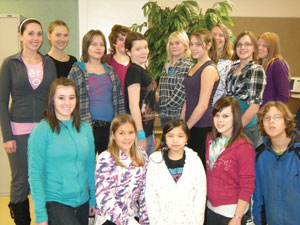 More local talent is stepping up to help the valley celebrate the arrival of the Olympic Torch on January 16. 2010
    Local musician and teacher Jillian Augey created a choir to perform at the Olympic ceremony. Combining the DCHS junior high choir, with senior high volunteers has formed an energetic and talented group of singers.
    Courtney Morse (known as Sally Bowles from Cabaret) will be soloing. The performance even includes choreography and coordinating outfits.
    The choir is grateful to Tara Semchuk for sewing, Luigi  Vescarelli and Encana for donating the hoodies, and Carol Todor for assistance.
    Jillian and Carol are working together to create a stunning performance that will showcase local talent. There will be about 20 dancers and 25 singers on stage in total.
    The singers and dancers are   thrilled to be involved in such a memorable opportunity.
    To take in the event there is one more day set aside to obtain tickets for the Olympic Torch Relay Celebrations. Committee members will be distributing tickets at Greentree Mall this Saturday December 12 from 10 a.m. to 3 p.m.