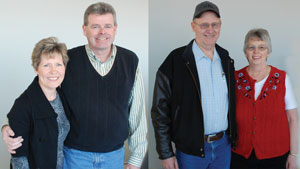 The Fundraising Committee for the Badlands Community Facility are in urgent need of support to realize their goal of raising $1.5 million by year's end.
    The committee is making great headway towards their goal of raising the estimated $12 million needed to build the complete facility. They have just kicked off their fundraising efforts with the Calgary Flames Alumni Game and have received a generous pledge of support from EnCana for $500,000.
    Now they are looking to community leaders that want to be counted on as founders.
    The Founders Club is for those who will be immortalized as one of the founders of the project. Like the Big Four that founded the Calgary Stampede, the committee is looking for community minded individuals to step up to leave their mark on the community for years to come.
    There are categories for the founders club, from Bronze Level, those who donate $50,000, to the  Platinum Level, which us those who give $250,000. The donations are tax deductible, and the Town of Drumheller can issue a receipt for the donation.
    Already there are two couples that are members of the club. Elson and Pat McDougald have to become a Platinum founders, while Jay and Connie O'Dwyer have pledged to be Bronze Members.
    "The community has embraced this project as a whole, now we are looking for individuals to make a serious financial commitment. Everyone says they want to donate, but they want to see the plans," said Jeff Hall chair of the fundraising committee. "Founders are people that have the foresight to support the vision."
    Taking into account all donations, the committee has raised $875,000 to date.
    The doors to the Founders Club are only open until December 31, 2009.
    The committee hopes to have significant support leading into its next major fundraising endeavour.
    Elson and Pat McDougald are hosting Drumheller Day at the Calgary Chamber of Commence on February 24, 2010. A strong show of local support would help show Drumheller is serious about making the Badlands Community Facility a reality.
    For more information on the Founders Club and how to leave your mark on Badlands Community Facility, Contact Hall at 403-823-7800, Elson McDougald at 403-998-7595 or Jay O'Dwyer at 403-823-2500.