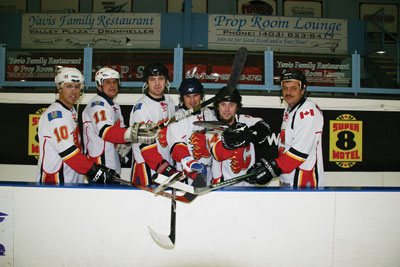 There will be hockey action like never before tonight at the Drumhller Memorial Arena.
On one end of the ice will be some of Drumheller's biggest hockey fans, and on the other will be a collection of all star Calgary Flames Alumni, including legendary scorer Theoren Fleury.
    The last time most saw Fleury on a set of skates was this fall as he took one final shot at playing with the Calgary Flames.
      On Friday afternoon, it was confirmed that Fleury would join the squad for the game in benefit of the Badlands Community Facility.
    "This is huge," said Dave Powell, who has been busy organizing the event. "There couldn't be anyone more influential in the Flames' organization."
    Fleury has been in the media spotlight recently. He's had a public battle with a number of issues, and in 2003 was suspended from the NHL for violating its substance abuse program. This year he petitioned the league to be reinstated and tried out for the Calgary Flames. He played four exhibition games and earned four points before he was cut.
    On October 16 of this year he released his autobiography Playing with Fire.
    Also on the confirmed list are Jim Peplinski, Jamie Macoun, Lanny McDonald, Tony Stiles, Terry Johnson, Paul Kruse, Dana Murzyn, Ron Stern, Eric Charron, Sheldon Kennedy, Mark Astley, Rob Tudor, Warren Skorodenski and Bill Murchison.
    Another celebrity fans will have a chance to see is the one and only Harvey the Hound. One Drumheller fan definitely looking forward to the experience is Dudley the Dragon. He has no trouble welcoming his out of town guest.
     Dudley says without Harvey there would be no team mascots.
    "He was the first mascot," said Dudley, adding the original Harvey, in fact built Dudley and brought him to life.
    Dudley says it is exciting for fans to have Harvey come to the game. For some youngsters, many of the Alumni Flames may not be known to them, however Harvey is iconic.
     He looks forward to having Harvey in the Dragons Den, and says they both may be able to learn a little. There is something Harvey should be aware of coming into the Drumheller Memorial Arena. After all this is Dudley's barn.
    "He has to know Drumheller fans get behind their teams and out-cheer the visiting teams," said Dudley. "He might be in for a challenge."
    Just who will Dudley be cheering for? The Drumheller All Star roster includes Taylor Colberg, Trent Colberg, Casey Grayson, Jamie Worman, Rod Knelsen, Eric Hodgeson, Lenny Koch, Blair Christianson, Darren Toffan, James Stefanishion, Gary Chambers, Den Olsen, Shane Straub, Sheldon Straub, Tony Pliva, Ryan Colberg, Brian Olsen, Paul Richard, Wes Chung and Joe Castonguay.
    Tickets for the game are $20 and are available at the Sports Room Source for Sports, The Chinook Credit Union and ATB Financial. After the game fans can attend the meet and greet which is sponsored by O'Sheas and Canalta Hotels. The meet and greet will take place at O'Sheas Eatery. Tickets for this event are $50 and are available at the Sports Room Source for Sports.
    Fans who bring a non perishable food item to the Calgary Flames Alumni Hockey Game on November 11th or to the meet and greet after the game, will be eligible to win a Calgary Flames Alumni autographed jersey.
    All proceeds from the hockey game and the meet and greet will also go towards the Badlands Community Facility.
    The opening ceremonies are at 5:45 p.m.