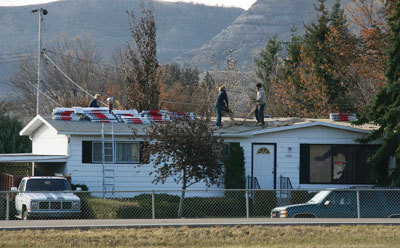 Drumheller contractors have enjoyed a strong year, and many say it is in part because of the federal government's Home Renovation Tax Credit.
    The Home Renovation Tax Credit, while still not approved by Parliament, many see as just the right amount of motivation to get to many residential fix-ups homeowners might have put off. The program applies to eligible home renovation expenses of more than $1,000, but less than $10,000, and can reward home owners with a tax credit of up to $1,350, if maximized.   
    According to local contractor Tom Bolin of TNT Bolinbilt, many of his clients are taking advantage of the program.
    "I have seen people get on more projects, and people want more information about the program," says Bolin.         "People probably aren't waiting, and are trying to take advantage of the program now."
    The program has a large list of eligible projects. In general, if it is a fixture of the home, and is not regular maintenance, it is eligible. Ineligible items may include the cost of routine repairs and maintenance; expenditures that are not integral to the dwelling, and other indirect expenditures that retain a value independent of the renovation; expenditures for appliances, audio-visual electronics and financing costs.
    Generally labour by contractors is eligible.
    James Martin of TM Martin Construction Ltd. says he has also seen the effects of the program.
    "We are quite busy right now," said Martin. "It is a definite advantage for everybody. I  know when we are getting into renovations, everyone is talking about the program."
    "You do definitely see people doing it because of the program."
    Martin says many of the clients are launching into larger renovations, and are cognizant of the potential savings.
    "That little bonus sure helps," he said. "It has prompted people to jump forward with their project rather than waiting another year."
    The program takes into account purchases made between January 27 of 2009 and February 1 2010.   
    Bolin says one sure sign that people are interested in participating is they are more conscious about getting all the paperwork in order. While before some customers weren't too worried about filing bills and receipts, more are making sure all the details are taken into account.
    Bolin adds consumers must recognize the program is not a grant. "People have to realize it is a tax deferral, not a rebate, but I am busy all the time because of it, said Bolin.