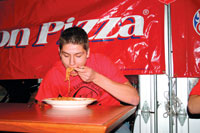 The Salvation Army kicked off their Christmas campaign  with the 4th annual Spaghetti Eating Challenge at 6 p.m on November 4.  
    This is just the start of a busy two months for The Salvation Army. Those looking for a way to stop themselves from feasting on leftover Halloween candy can donate it to The Salvation Army for filling sunshine bags. Each year 800 bags are filled and taken to seniors at the Sunshine and Hillview Lodges, the Continuing Care Unit and Drumheller Institution.   
    November 20 will be the kick off for the Christmas kettles and will take place this year at the Dragons game.
    Volunteering on a kettle for two hours raises enough money to give a child a merrier Christmas. To volunteer to man a Christmas kettle contact Gunnar Mortenson at 403-823-9825.
    There will be barbecues on November 21 and December 12 at Canadian Tire from 12 p.m to 4 p.m.
    Those who wish to sign up for Christmas assistance are encouraged to register as soon as possible as appointments are being filled fast. Appointments are going to be held at The Salvation Army on Monday, November 23 and Tuesday, November 24.
    To apply for a hamper call 403-823-2215.
    The annual food drive will be held on Thursday November 26, starting at 6 p.m.
    "We have something fun we call the '0 for ettiquette for food donations. 1. Open-we do not accept any items that are not properly sealed. 2. Outdated-please check dates before donating food and 3. Own cooking, due to health regulations we don't accept any home made products such as jams etc," said Salvation Army Lieutenant Rachel Sheils.
    Christmas hampers and toy distribution will be held on December 17 followed by the "Fill your Cart" Dragons game where people have a chance to win their groceries by running food items across the ice to be the first to fill the cart. The winner will keep all groceries in their cart and the total dollar amount of all groceries will be donated to The Salvation Army.
    There are many ways to help The Salvation Army. Volunteers are always needed for Christmas hampers, food drive, working the kettles and a variety of other tasks.
    Last year Christmas was merrier for 138 children who received toys. 107 hampers were also distributed with all trimmings for a holiday meal.