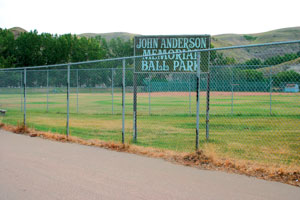 It is very likely residents will see ground work beginning this fall on the future site of the Badlands Community Facility.
    This week the Town of Drumheller sent out a request for tenders for a site project to build up the base of where the facility will soon be erected.
    "Tenders have been called for the placement of pit run gravel to be placed on the site of the facility, which is John Anderson Park," said Drumheller CAO Ray Romanetz.
     On Monday morning a group of perspective contractors toured the site.
    Romanetz explains the goal of the project will be to raise the site approximately 1.5 metres, about the same height as the existing dyke north of the park, to the 100 year flood level.   
 Romanetz says he expects it will be a quick turnover.
    "We have a really short tender close, and it is to close this coming Thursday, (November 5). We are hoping if we get suitable pricing in, we'll be able to award it by Monday," said Romantez.
    "The idea is we get the pit run in place this fall so that when we tender this project--probably in mid-February--the soil will be in place and it won't delay the construction project."
    The funds for the site work and pit run will be taken from the already approved budget for the Badlands Community Facility.