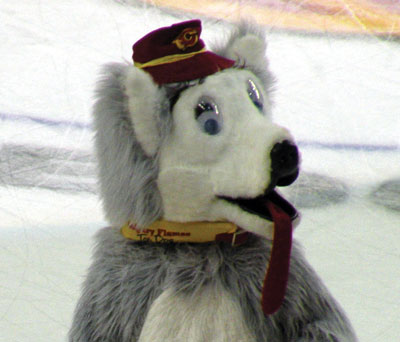 The list of NHL celebrities attending the NHL Alumni and Drumheller All Stars Hockey Game is getting bigger.
    The Fundraising Committee for the Badlands Community Facility is pleased to announce that Harvey the Hound will be at the Memorial Arena for this fund raising event.
    Harvey the Hound made his debut with the Calgary Flames as their team mascot in 1983. Harvey has been a fixture with the Flames. Harvey has remained a mainstay at Flames games, and at many events throughout Calgary and southern Alberta ever since. He was the NHL's very first mascot.
    Harvey gained widespread publicity on January 20, 2003, following an incident with the
Edmonton Oilers head coach, Craig MacTavish. With the Flames leading 4–0, Harvey was taunting the Oilers behind their bench. The Oilers squirted him and eventually a frustrated coach reached up and ripped Harvey's signature red tongue out of his mouth, tossing it into the crowd.
    The incident made headlines throughout North America, and led to many jokes, including having many other NHL team mascots arrive at the 2003 All-Star Game with their tongues hanging out.
    The NHL Alumni charity hockey game will be held at the Drumheller Memorial arena on November 11th. All proceeds from the fundraiser will go towards the Badlands Community Facility. Hockey fans will be able to see the likes of Lanny McDonald, Jim Peplinski Jamie Mcoun, and more.
    Tickets for the game are only $20 and are available at the Sports Room Source for Sports, The Chinook Credit Union and ATB Financial. Get your tickets soon as the fund raising committee is expecting a sell out.
    There is also an opportunity to attend a Meet and Greet which is sponsored by O'Sheas and
Canalta Hotels. The Meet and Greet will take place at O'Sheas Restaurant after the charity hockey game. Tickets for this event are $50.00 and are available at the Sports Room Source for Sports.
    All proceeds from the meet and greet will also go towards the Badlands Community Facilities.