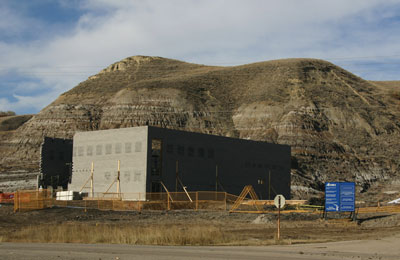 Construction is continuing smoothly on the new St. Anthony's School on North Dinosaur Trail, and is on Schedule.
    There has been a flurry of activity on the site across from the Drumheller Health Centre since ground was broken on March 27 on the $13.7 million project of a new Catholic K-12 school. The construction is right where it should be says Hans Woehleke associate superintendent, administration & operations for Christ the Redeemer School Division.
    "Everything looks like we are on schedule," he says. "The construction crews are moving forward and the time lines look quite good."
    Assistant superintendent Vincent Van Hyfte, says favourable weather has helped the project advance at a quick pace. He says there were some early delays as site work to mitigate the mines below the surface, but it wasn't significant.
    Most recently he said people can see the new gymnasium walls erected.
    "We are very pleased with the work that is moving forward in a positive way.
    The school has been a long time coming since the original Drumheller Solution was announced in September of 2005. The facility was designed by Barry John of Gibb Gage Architects. Bay View Constructors Limited of Calgary has been selected as the managing contractor for the new school. They broke ground at  the end of March this year.
     Woehleke says the project realized tremendous savings because of the economic slowdown.
    "It was the exact opposite to what we experienced in Canmore. In Canmore, had we built that school a few years earlier it would have been half the cost. Because of the economy we really benefitted," said Woehleke.
    He adds they are also on budget.
    The facility is being constructed for a capacity of 550 students. The new school will house two classrooms per grade, have a full size 400 seat gymnasium, separate wings for elementary and junior/senior high, computers and news media areas, a library, chapel, and music and drama rooms
    The school is slated to open in December 2010.