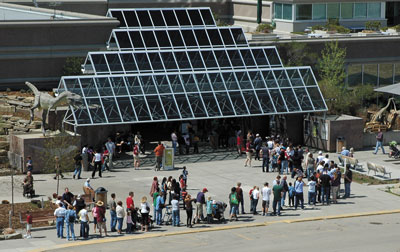 From September 18 to 20 join the Royal Tyrrell Museum for a series of activities and events in celebration of Alberta Arts Days. Admission to the Museum is free all three days and there is truly something for everyone!
     Friday, September 18, the Museum is hosting two complimentary webcasts. Have you ever wondered what colour dinosaurs were? Whether or not they had feathers? Which were the biggest, fastest or meanest? This is your chance to find out!
    Starting Monday, August 31 until noon September 17 you are encouraged to submit questions about palaeontology, dinosaurs, and palaeo-art at tyrrell.info@gov.ab.ca. Then, on September 18, log onto the Museum's website at 9:00 a.m. and 10:30 a.m. to discover more about Alberta's prehistoric past.
    On September 19 and 20, in addition to our regular public programs, there are special Palaeopalooza activities.
    Saturday, enjoy palaeo face painting or become a film star on the Museum's YouTube channel. Sunday, watch a 3D chalk mural by artist Mark Cromwell of the Color Club in Calgary come to life on our plaza or participate in a free art class, with instructors from the Badlands Gallery, in our dinosaur hall.
     It's fun for the whole family! It's Palaeopalooza 2009!