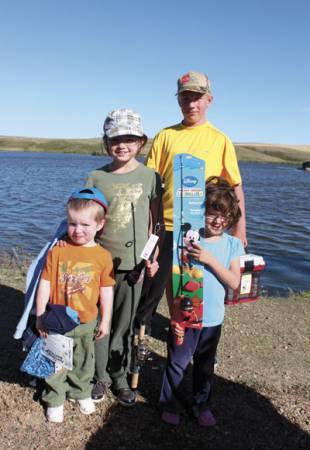 They came they saw, they fished.
    The 15th annual Ryan Savary Memorial Fishing Derby went at Michichi Dam last Saturday, as 48 headed out on the water or along the banks to fish out some trout, and a few prizes.
    They say a bad day of fishing is better than a good day of work, and for many of the contestants, the fish weren't biting. In fact, only five fish weighed in during the event. Despite this, organizer Katrine Stone, sister of Ryan Savary was happy with the outcome. The event memorialized her brother who passed away in a car accident, and also contributed $440 to the Drumheller Salvation Army.
    The ones that were successful in getting bites seem to be the usual suspects. Angler Adam McCann took the top spot this year with his catch of 3 pounds, 12.6 ounces. He claimed the $300 cash prize. In fact, this catch vaults him into the history books of the Ryan Savary Derby with the most catches of any participant.
    Bill Lapham placed second with a 1 pound, 14.6 ounce catch edging out third place Ron Jacobson by just 0.4 ounces. Blaine Zacharuk won fourth place and a Shimano graphite rod.
    Because of the lack of catches, the remaining prizes were drawn for. Stone said it worked out well for some of the young anglers, as most all the youth who participated received prizes.
    Stone is thankful for the support for the event as it has continued for a decade and a half, and she is already thinking about next season's event. She said Frank Baron of Starland County was helpful, and the county even donated a number of prizes, as did Steve's Painting of Drumheller.
     She is also grateful for the help and support of Mickey Poland and Ken Marquardt who have attended all 15 derbies.