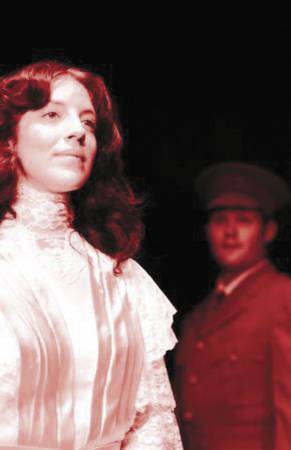 The constant battle between love and war have been at the core of many entertaining stories throughout history.  This fall, the Rosebud Opera House comes come alive with a story that's certain to quicken your heartbeat on both fronts.
    Award winning Canadian play, Mary's Wedding, by Stephen Massicotte vividly captures the heartache and pathos of a World War I love story. Mary's Wedding opened Friday September 11 and runs until October 23.
    Despite its historical context, Mary's Wedding is very much a modern story for today. Whether it is the excitement of finding our first love or the heartache of leaving home or seeing someone we love leave us, Mary's Wedding strikes a deeply personal chord, and that is what makes it such a modern masterpiece.
    As Artistic Director, Morris Ertman describes, "I am in love with this play! It takes a sad story of two people having to leave each other and masterfully weaves the story of their spirits together in a way that is so universal - so true to what true love looks like in any guise. We feel like we know Mary (Heather Pattengale) and Charlie (Karle Sine), and we know Flowers, a Cavalry officer based on an actual World War I soldier."
    "Massicotte understands the human heart. He understands the emotional rollercoaster that is the tension between love and impossible events in impossible times. The play is visceral and immediate. Massicotte takes you into the heart of a young man caught in a WWI trench when he should be on a horse."
    "He captures the spirited life of the girl Charlie is head-over-heels about, but can't quite reach. He understands the heartache of unresolved words spoken between people. But most of all he understands, and shows vividly, the unfettered craziness of those first days when we think we may really be in love. This play is exciting, and that should be no surprise. Take two people who have discovered they love each other in that crazy head-over-heels way and pull them apart by a world war: now that's an age-old plot that gets a stunning treatment in this play and on our Rosebud stage."
    Mary's Wedding is a heart wrenching story about the excitement of finding something, losing it and having the courage to move on. Even with an ocean between them, Mary and Charlie inhabit each other's dreams. They seem to be everywhere and everyone to each other. Set against the backdrop of the Canadian Cavalry in WWI, this moving and magical play lives at the threshold between fact and fantasy, where nothing is exactly as it seems, memory slips easily into romance, and love and loss intermingle forever... a love story for the ages that will leave your heart aching and your imagination racing.
    Mary's Wedding plays September 11 - October 24 at the Rosebud Theatre Opera House, Wednesdays thru Saturdays. Book your tickets at 1-800-267-7553 or visit www.rosebudtheatre.com for more information.