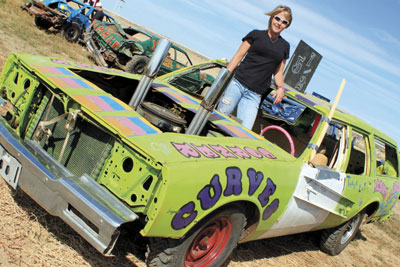 The roar of engines and smell of exhaust greeted spectators walking into Dinosaur Downs to watch the 26th annual Demolition Derby on Saturday, September 5.
    The lively crowd watched the destruction of vehicles, cheering as metal crushed metal in the fight to be the last car running. No fear is the motto for this exhibition of will as drivers battle their vehicles to the bitter end.
    With bumpers hanging and deflated tires, they continue to crash into one another for the ultimate glory of bragging rights and a first place cash prize of $1,600.
    The addition of two new events brings this competition to a total of 39 experienced competitors making this year a fierce fight.
    Driver Jesse Sieppert said this was his third year for the car he entered. He admits it's the adrenaline rush that gives him the drive to maintain the vicious cycle of fix and destroy.
                        

    While watching the second heat of the eight cylinder competition, James Martin was pinned against a retaining wall at the mercy of his opponents. He was repeatedly rammed but he made a great recovery and retaliated with a vengeance that put him in the top three, qualifying him for the final event. James chuckled about his sticky situation saying he thought his goose was cooked, but obviously, his strategy to take out the biggest car gave him the cutting edge to win the heat.
    The all girl heat had four competitors this year. The lady's motto for the match was "We're all out here to have fun!" as they took to the pit for the Powder Puff event. With engines revving they start the heat with a vengeance, jam packed with action the ladies fearlessly bash one another cars to pieces. Frustrated, Eliza Groenveld sits this one out because her car wouldn't shift in to gear.
    Christie takes a powerful blow high centering her on a retaining block. As her engine leaks out the remaining radiator fluid she gives her engine one last disastrous rev, popping a belt twenty feet in the air, she finally admits defeat. With death comes glory as Terra Lawrence wins the title in the Powder Puff event.
    In the end, the battered shells of once ferocious vehicles are being towed or dragged out of the ring. The crowds disperse and the real work begins as decisions are made concerning the fates of the demolition cars; start the repairs needed for next year's derby or retire their hopes and dreams to the junkyard and start over?