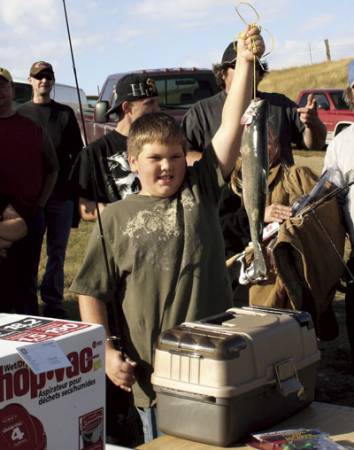 The 15th Annual Ryan Savary Memorial Fishing Derby runs this September 12, and with cash prizes of $650 to be won, and fish stories to be told, anyone involved is guaranteed to catch a good time.
For fifteen years, anglers young and old have gathered at the Michichi Reservoir in memory of Ryan Savary, a young man who passed away in 1993.
Last year, it was changed to a not for profit charitable event, with all the entry fees donated to The Salvation Army in Drumheller. This will be continuing on into this year.  
    "I am very excited to take over as organizer for the event and look forward to meeting all the wonderful people who have supported and participated in the fishing derby in honor of my brother over the last fifteen years," says Katrine Stone, Ryan's sister. "I know that my family and I are so proud of the great job that Greg St. Laurent (Ryan's best friend) did the first thirteen years, and I only hope I can do him justice. Our main goal is to get the young, old, pro's, first timers, families and friends out for a day of fun and Ryan's passion, fishing." 
  There are special prizes to be won, for starters the aforementioned $650 in cash prizes available, which is sponsored by Alex Savary, Ryan and Katrine's father. There are other non cash prizes as well, one of which is the special prize awarded to the person who catches the fish closest to the 11-pound, 2 ounce Ryan's biggest catch. There are also plenty of prizes for the youth division.
  There's bound to be some familiar faces at the derby, as some folks have been attending for quite some time. Mickey Poland has been there every year since it started, and Ken Marquardt has been attending for at least eleven years.   
    The event runs on Saturday September, 12 from 6 a.m. to 4 p.m. Registration starts at the boat dock on Michichi Reservoir after 6 p.m on Friday.