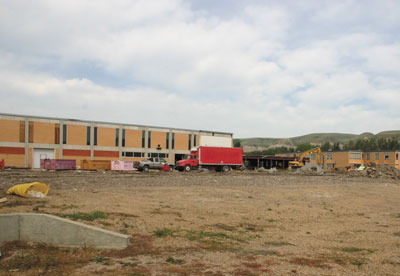 Despite worries about an economic downturn, Drumheller keeps building up its building permit numbers.
"The numbers are very good," said Kate Lima development officer for The Town of Drumheller.
     She says the numbers saw a boost from the demolition and construction of Drumheller Composite High School. In April, the demolition and construction permits were taken out with a value of  $575,00 and $14.32 million respectively. Another area where there has been a rise in the value of development permits is the commercial sector. While the number of permits has dipped from 14 to 11, the value was up by about $1 million.
    Lima says projects that bolstered these numbers include the renovations to bring a new Shoppers Drug Mart to downtown Drumheller, taken out in January, and an apartment complex in downtown Drumheller aimed at AISH recipients, for which a development permit was taken out in June.
    The residential building permits are down by 10 over last year. Lima says there has been some new home development permits come out, but many that have come across her desk have been home renovations, possibly spurred along by the Federal Government's Home Renovation Tax Credit.   
    "We are seeing new decks, accessory buildings and renovations in the home," she said. "They may be taking advantage of it (the tax credit)."
    Overall she feels the numbers are strong, especially when many are spelling doom and gloom for the economy.