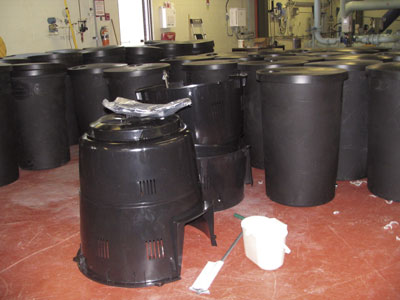 Drumheller has gone green.
Not in the way that it has turned the color green, but in a very Earth friendly way. The Town of Drumheller recently introduced an initiative to make the town more environmentally friendly, by selling compost bins and rain barrels. And it started right here in the valley.

"One of council's priorities was to explore green initiatives," says Ray Telford, Economic Development Officer for the Town of Drumheller, one of the people behind it. "The thing is, everyone talks about going green, and it's great that council made it a priority."

The tools available are compost bins, which are sadly all sold out, and rain barrels, of which several remain. They are being sold with a garden hose adapter and a screen cover, and they are only $46.00, and only available to Drumheller residents. But beware, they are only available until Thursday, July 30.
"We may get more later," says Telford, "but as of right now we're unsure of that."
How do people acquire them? Go to dinosaurvalley.com, click on living in  Drumheller, and on the bottom right is a link to fill out a form. Print the form, fill it in, and take it to Town Hall. They will then tell you when and where to pick up your rain barrels.