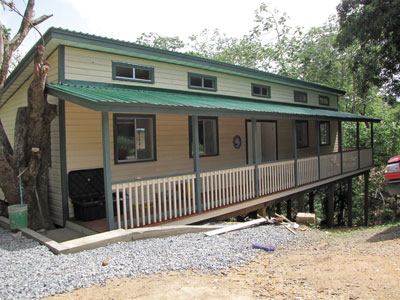 Work on the Infant Care Centre for the Morgan Jayne Project has been completed, now able to serve the HIV stricken island of Roatan in helping heal infected babies.

  The care centre, designed to help 12 babies at a time, but will probably serve a whole lot more, was built last week after months of dedicated work from a team of volunteers in Drumheller and those on the island just off the coast of Honduras.
    The idea only began in December, but Drumheller local and father of Morgan Jayne, the poster child of the project, Fred Makowecki, and the help of many volunteers and the community made it a reality only months after conception.
    "The island is excited about the whole prospect, I'm thrilled beyond belief," Makowecki said.
    "It's only been three years since the project started, to look back and think of right now, it just absolutely boggles my mind," he said. "How the whole town jumped on board, it just feels good to be doing something."
    Over the weekend, the community in Roatan had a 'baby shower' for the clinic, to fill it with furniture and items which will undoubtedly be needed.
    One third of babies born in Roatan die, and many whom don't are left poor and HIV positive.
    The construction company building the Infant Care Centre is actually providing their services for free, with one member of the crew planning to adopt a child from the project.