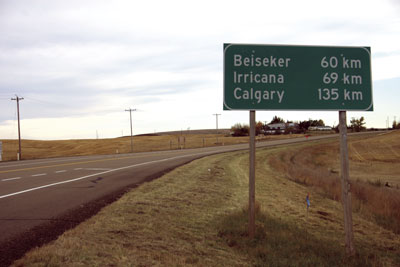 Disappointment may be a word that describes some residents, feelings that the 14 kilometre stretch of Highway 9 that transverses Highway 21 will not be completed during this year's construction season. Others may have stronger words.
The Mail reported in its March 11 issue, the project will not go this year, however the stretch from Beiseker, south to Highway 566 would be completed. The 14-kilometre portion west of Carbon Corner and east of Beiseker is the final stretch that would rejuvenate the highway from Drumheller to Beiseker.
    For Derek Dekeyser, owner of Dinosaur Trailer Park, and manager Duane Kipling, it means another year of directing their visitors around the rough stretch.
    Dekeyser says there are a number of concerns with the stretch of highway. While he says he does not recall any of his visitors reporting damage to their vehicles, but pulling tag trailers make it a less than smooth ride. He is concerned about visitors' lasting impressions of the valley, and the impact of dodging potholes.
    "If they arrive in a sour mood, it really impacts their holiday," said Dekeyser.
    He is also concerned about the safety of the stretch. Most of his clients don't drive motor homes or pull a trailer on a daily basis. The rigs are all built to the maximum width allowable on the road. These factors, combined with the thin rough stretch can make a potentially dangerous situation.
    MLA for Drumheller Stettler Jack Hayden understands residents' concern about the project, but says there has been great progress made.
    "I think we are doing really good, it goes clear from the Saskatchewan border right through. They are straightening out south of Beiseker, and then the small chunk by Highway 21, and when it is done, Highway 9 is done," said Hayden. "It is amazing because it is coming together really quickly."
    He says he would like to see the highway complete. There are many other priority projects however throughout the province.
    "We are spending $23 billion on infrastructure over the next three years, and right now we are going to require $4 billion out of the sustainability fund to maintain the level of what we are doing," said Hayden.
    "We obviously need to improve it, but we have in the neighbourhood of 210,000 kilometres of road in Alberta, so when you talk about priorities, traffic counts and safety, all of those things have to be taken into consideration."
    Darrell Kohut, operations manager for HiWay 9 Express says the highway impacts their bottom line. He is happy there has been progress made, but would like to see more.
    "It would be nice to have a little more shoulder on it there, and they have done a nice job of cleaning up the main portion," said Kohut. "If that was available (the 14 kilometre stretch) we could run longer combination vehicles, putting less trucks on the road. That would go towards everything we want to be in regards to safety and the environment and everything else."
    He adds if the stretch were completed the company could run the bigger trucks from Highway 36 near Oyen clear to Calgary. The more trucks on the road, the more expense.
    "It definitely drives up the cost of business, because we have to run more trucks to move the same volume of freight," he said.
    Right now, often the company simply bypasses the route to minimize damage to vehicles and freight.
    "We use Highway 575 quite a bit," he said.