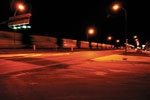 "I didn't like the call, but I knew it was coming," said Mayor Bryce Nimmo Monday afternoon after talking to Canadian National (CN) about the fate of the rail line through Drumheller. "At the same time, there is not much you can do about it."
On November 17 Mayor Nimmo was informed by a CN spokesperson the rail line from Lyalta to Oyen, running through Drumheller, was put on the discontinuance list.
"It's an end of another era," Nimmo said. "It's been happening all over unfortunately, and it is not just the prairies, it's been everywhere."
According to CN Rail spokesperson Kevin Franchuk, what this means is CN is following the initial steps laid out by the Canadian Transportation Act (CTA) to discontinue a railway line.
"We are following the CTA process. It provides ample opportunity for interested parties to determine if they can acquire the rail line for continued operations," said Franchuk. "We will work in good faith with all interested parties, as well follow the general timeline as specified in the act."
He says after one year they are able to advertise the line for sale.
The line in question is 177.8 miles (286 kilometres) long, running from Lyalta near Calgary to Oyen. Franchuk says the reason for closing is simply because of lack of use.
"CN no longer needs the line because it only transports local sporadic traffic. Each part of the network is constantly examined, and we reviewed this line and made the business decision to begin the discontinuance process," he said.
Franchuk adds most traffic residents have seen along the line is through traffic, and that will be re-routed.
Daily intermodal traffic between Calgary and Saskatoon will be maintained; only the route will be different. He adds that CN has been in talks with local customers.
He says while the line is on the discontinuance list, it still will be maintained as an operating rail line.
Mayor Nimmo says he was told residents will see a drop in the traffic along the line very soon, and he is worried the line won't be maintained.
"The right of way has always been a problem here, CN has not been that good at keeping up the right of way, and keeping the weeds down. I worry that when they shut the thing down they will be even worse.
"He hopes local customers will be able to make arrangements," Nimmo added.
He understands only a few local customers along the line will be affected, globally he is concerned about the transportation shift away from rail.
"One thing that bothers me is we are moving away from a very efficient way of moving lots of stuff. It will put a lot more pressure on roads," he said.
Nimmo also says it is a shame because Canada was founded on railways developing west, and they were given the land to build the lines.
"Now they are abandoning it. To a degree they are abandoning their responsibility," said Nimmo.