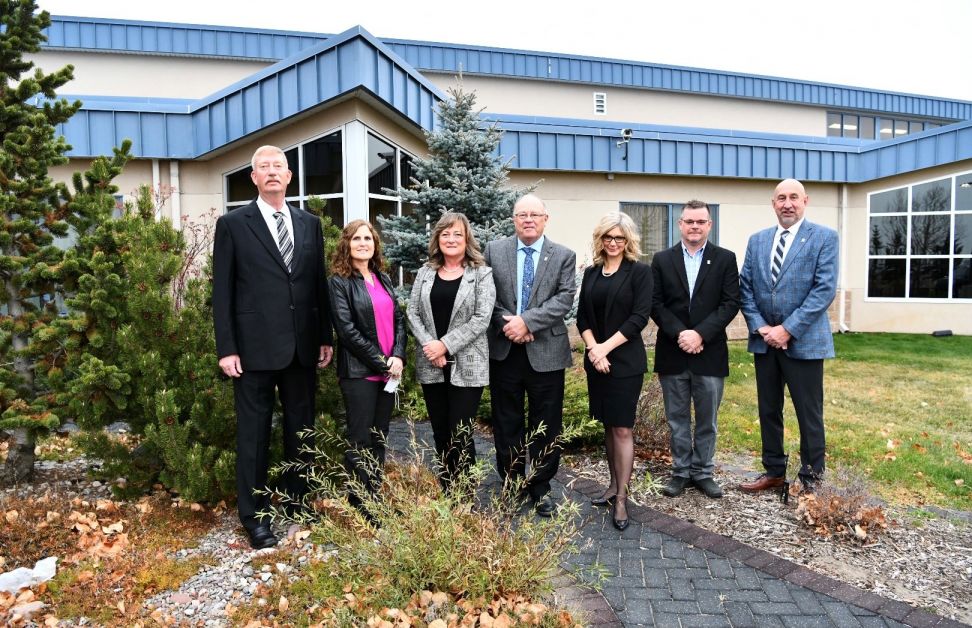 Representatives from the Wheatland Housing Management Board (WHMB) and Wheatland and Area Hospice Society held a series of community engagement presentations to discuss the proposed new seniors living lodge with partner communities.
The lodge is a project the two organizations have been working on together for a number of years to fill a need within the Wheatland County and Strathmore area.
"We have such a huge need, about 400 spaces, and that's not going away," says Wheatland and Area Hospice Society board President Dr. Joni McNeely.
She explains the lodge will fill a housing need to support low income seniors, which represent about one in four seniors in care. Low income seniors currently can access the Wheatland Lodge congregate seniors living facility, but with only 89 rooms available there is already a waiting list of about 20 people.
While the average age of residents entering the lodge is about 89 years old, and these seniors often enjoy another "substantial number of years" at the lodge, Dr. McNeely says the waiting list issue will only continue to grow and will not be resolved without a new facility. This will become especially problematic as the existing senior population continues to age and the Baby Boomers enter their senior years.
It is estimated the facility will cost some $53 million to build, and will provide additional space for low income seniors to age in the community.
Each member municipality--the Town of Strathmore, the villages of Hussar, Rockyford, and Standard, and Wheatland County--will contribute a one-time capital contribution totalling $4,644,796, similar to a down payment. An ongoing annual requisition will also be required to repay a loan through the Canada Housing and Mortgage Corporation (CHMC), similar to a private mortgage, totalling some $700,000 annually.
The Town of Strathmore has committed the land for the facility, located east of the Strathmore Kinsmen Park, along with a capital commitment of $566,625.
Along with seniors living, the facility will also include a space for hospice, though costs for this will be evaluated as a separate project and will be funded through community fundraising. Although the presentations did touch upon some concerns about having a shared seniors living and hospice space within the same building, Dr. McNeely says the overall response has been very supportive. She explains the hospice and lodge will each have its own separate entrances, and will each have its own look and "vibe."
"AHS (Alberta Health Services) has said it's not likely a freestanding hospice would be viable," Dr. McNeely says.
She adds AHS is putting much of its hospice care into long term care, and there are already some similar facilities, such as St. Marguerite Manor and Dulcina Hospice located in the City of Calgary's north end.
By working together, the two organizations may have more success obtaining grant funding due to reduced costs--not only build a singular facility, but also reduced staffing needs and the ability to share other facilities such as laundry and kitchen resulting in reduced overall operating costs.
Dr. McNeely says the project is in the first of four phases and a project manager has been hired.
The project was presented to Town of Strathmore and Wheatland County councils and both municipalities supported the WHMB's request for letters of support. These letters will be sent to the federal government along with letters received from the other member municipalities of Hussar, Rockyford, and Standard.
"We need to have more facilities and services in these little communities," Dr. McNeely tells the Mail.
The board held a second round of engagements to present the information to other communities it was unable to get to during the first round, and held a meeting in Village of Hussar on Thursday, April 27.