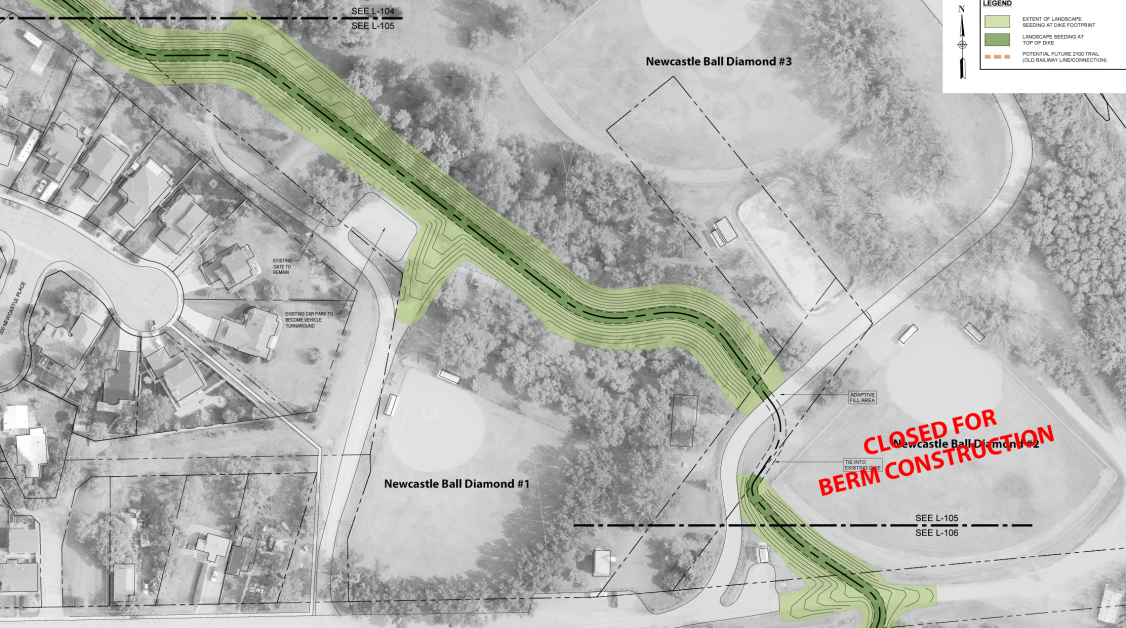 Newcastle Baseball Diamond #2 will be closed for use by the public to allow for upcoming berm construction this spring, according to an announcement made by the Drumheller Resiliency and Flood Mitigation Office (DRFMO) on Wednesday, March 22.
The closure, which will be effective April 1, and DRFMO has notified local baseball associations of the impact this will have on the season.
"We understand this is not the news everyone has been hoping for, but in the interest of safety, we ask everyone to stay away from Newcastle (Ball Diamond) #2 while work proceeds," the notice states.
It is hoped construction will wrap up by June 24. Games, tournaments, and camping in the area will be prohibited until at least this time.
"Bookings in Newcastle #2 will be made on a case-by-case basis after June 24," the notice says.
Contractors for the project, Pidherney's, have planned to return for a two-week period in August if work cannot be completed by June 24.
Acting Chief Administrative Officer (CAO) and Infrastructure Services director Dave Brett tells the Mail the Town met with user groups in February to discuss the potential closure of the Newcastle #2 ball diamond.
"The temporary closure (of Newcastle #2) will allow for significant, long term flood protection," Mr. Brett adds.
He says the Town had kept the diamond open last year for tournaments, but there were some incidents and safety concerns having children around heavy machinery and it was decided, for the safety of the public, to close the diamond.
Mr. Brett shares the Town plans to assess the Rosedale Baseball Diamonds to determine any work needed to allow user groups to utilize the facility; however, this cannot be completed until the snow has melted. He is hopeful this can be done by the end of April.
Once assessments are done, the Town will complete any maintenance necessary and will continue to maintain the facility throughout the closure.
Both Newcastle #1 and Newcastle #3 ball diamonds will remain open throughout the duration of the closure.