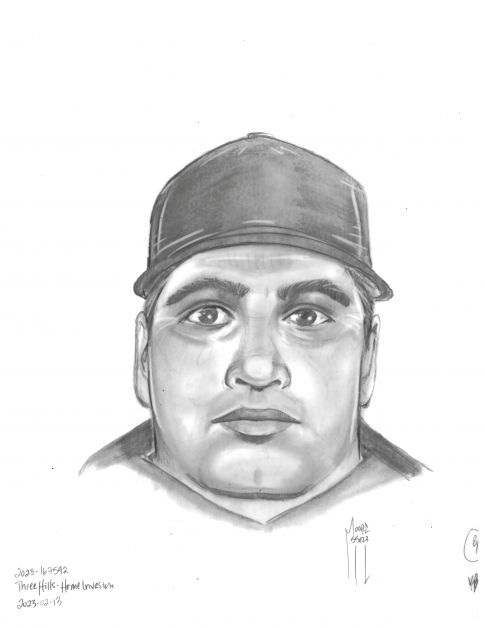 A composite drawing of a suspect wanted in connection to a break in and robbery in the Kneehill County and Stettler County areas in early February has been released.
Three Hills RCMP received a report of a break in and robbery to a home on Range Road 235 in Kneehill County on Monday, February 6 at 8:09 a.m. During the robbery, the suspect held a small knife to the homeowner when confronted before fleeing. The altercation resulted in the homeowner receiving a minor cut.
Later that same morning at 9:50 a.m., Stettler RCMP received a report of a break and enter at a home on Highway 56 in Stettler County. The suspect was observed by the homeowner on their video surveillance cameras breaking into their home. Some items were stolen from the victim's garage before the suspect fled the area.
It is believed these two offences were committed by the same individual and RCMP are asking the public's assistance in identifying the suspect.
The suspect is described as male, of fair or medium complexion, middle aged possibly in his 40's, with grey hair and wearing a blue puffer jacket; the vehicle the suspect is driving is described as an older model single cab pick up, red in colour.
If you have any information about this crime or those responsible, please contact the Stettler RCMP at 403-742-3381 or the Three Hills RCMP at 403-443-5538. If you wish to remain anonymous, contact Crime Stoppers at 1-800-222-8477 (TIPS), online at www.P3Tips.com or by using the P3 Tips app available through the Apple App or Google Play Store.