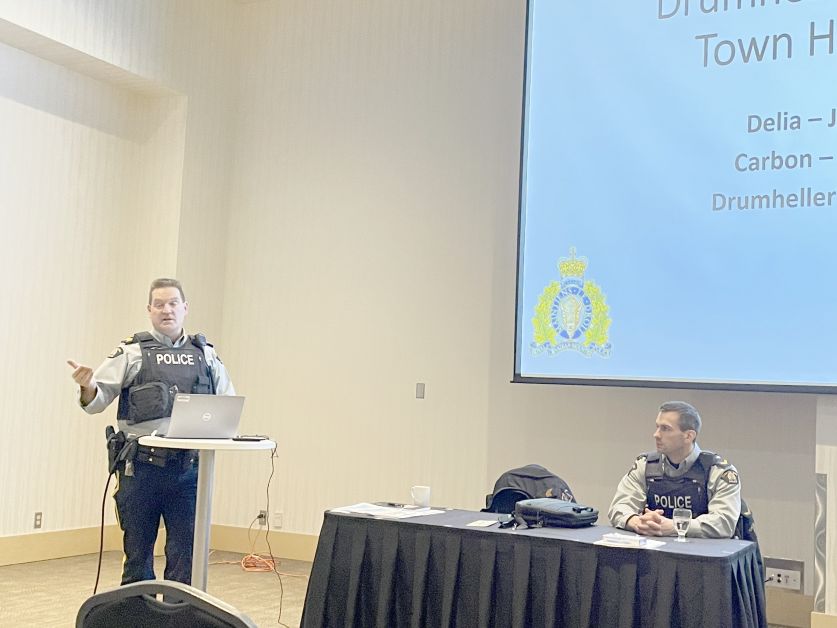 Drumheller RCMP has completed a series of open houses to talk to residents as it sets its priorities for the coming year.
Staff Sergeant Robert Harms along with officers from the detachment last week held open houses in Delia, Carbon, and Drumheller. These were information sessions that let the community know the work the RCMP is actively engaging in, the areas that are of concern, and to hear residents' feedback on what they would like to see. Of the meetings, Carbon had the greatest turnout with 23 residents coming out to share their concerns.
"All of the meetings were very positive," said Harms.
Issues brought up ranged from problematic animals to property crime and theft of vehicles, and how residents can protect themselves.
"I had a lot of people come up afterwards and shake my hand and say it was great hearing from us. That is part of it, being available and meeting people," said Harms.
The Drumheller RCMP has an online policing survey available as another tool to hear what residents feel are the priority for the coming year.
While the results are preliminary, Harms said so far people are expressing their priorities including property crime, especially as it related to drug issues and traffic enforcement.
This week K-Divison is launching Operation Cold Start. It is an awareness campaign focused on the theft of vehicles, especially in the winter when residents leave their vehicles running. He notes, in Alberta, 50 per cent of vehicles that have been stolen were unlocked. Of those, 50 per cent had the keys in them.
On hand were also partners in crime prevention including Rural Crime Watch and Citizens On Patrol, which did presentations. Kneehill peace officers also attended the Carbon presentation to address Crime Prevention through Environmental Design. The RCMP is also working hard on its program to help people not be victims of crime.
The policing survey is open until February 10. To submit your response, go to:
https://tinyurl.com/drumrcmpcommunity2023.