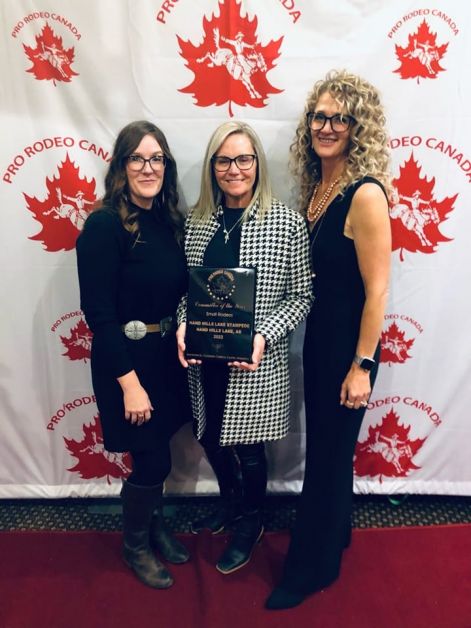 It should come as no surprise the Hand Hills Lake Club would be spectacular at putting on a rodeo, after all, they have been doing it since 1917.
However, this year they were once again recognized by the Canadian Professional Rodeo Association as Small Committee of the Year.
After COVID we were trying to get the rodeo to go, and we were not sure if people were going to show up and if it was going to be the same as it was before," said President Layton Rosin. He adds there were other small events that were struggling as well, that worked hard to put on a great show.
They successfully bounced back and this year put on a spectacular show for spectators and competitors. The award is not new to the committee, as they won it at least twice prior to COVID-19.
What makes the award special according to Rosin is that it is voted on by the competitor. Some of the feedback they received from those voting on the award said, "Hand Hills offers one of the best rodeos and in a small community they put on a great rodeo for spectators and competitors," and "Great committee, people get involved with contestants, and being just a small rodeo it felt great to ride there."
One special comment was "The pie was incredible."
"It is kind of nice (for the cowboys to say this). It is kind of nice the crowd appreciates it too," said Rosin.
He adds the one difference between the Hand Hills Lake Club and the committee and other rodeos, is they are not solely a rodeo committee.
"We are a community, a community that puts on an annual rodeo. I think that helps a lot more," he said. "A lot of us are fourth generation, our grandparents and great-grandparents have put it on."
He says they have been actively working on getting more people involved in the committee and the community.