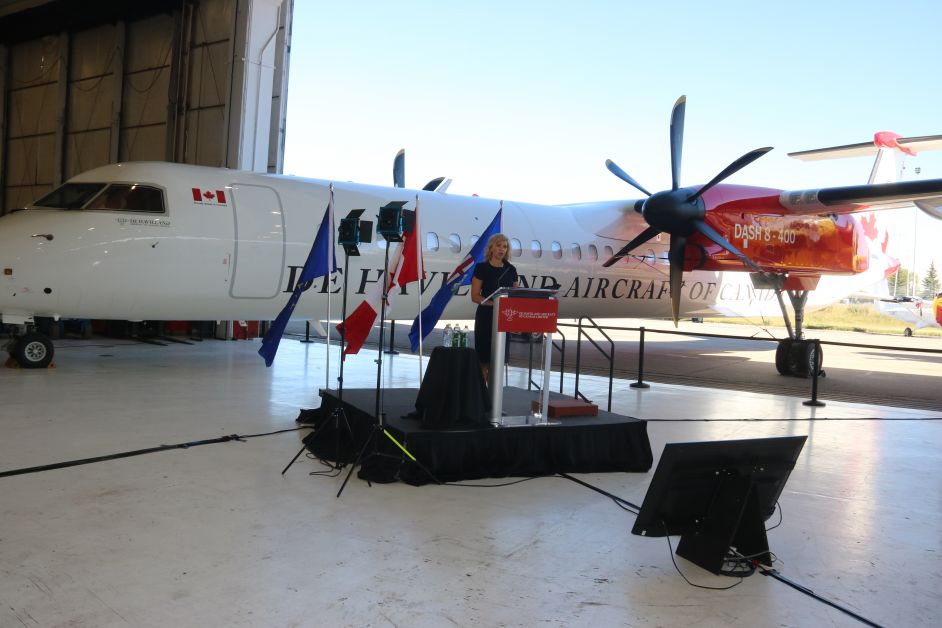 A monumental announcement was made Wednesday by Canadian aircraft manufacturer De Havilland that could potentially see 1,500 jobs added in Wheatland County.
Premier Jason Kenney and members of his cabinet were joined by Wheatland Reeve Amber Link, Sherry Brydson, owner of Westerkirk Capital, co-owner Rob McDonald, and Brian Chafe, CEO of De Havilland Aircraft of Canada to announce the site of De Havilland Field.
This, according to a press release, will be a state-of-the-art aircraft assembly facility, runway, parts manufacturing and distribution centers, and maintenance repair and overhaul centre. In addition, educational space for training the workforce of the future is planned as well as general office buildings and a De Havilland Canada aircraft museum.
Brydson said the company plans to take its time to do it and will develop the facility over the next 10 to 15 years.
"It will be located in Wheatland Alberta between the communities of Chestermere and Strathmore," said Brydson. "Rob (McDonald) and I spent some time with the assistance of our Victoria crew in locating properties and assembling land that will give us room to grow and give us a first-class aerospace campus in Wheatland County."
An animated video showed the proposed site, which, when complete, could contain up to 23 buildings, as well as space for future development from the private sector. The site will be the final assembly site for the DHC-515 Firefighter aircraft, which was launched this year. The company is also working towards bringing the Twin Otter and Dash 8-400 back into production.
Premier Kenney called the development a game changer.
"Alberta's economy is diversifying like never before, and with today's announcement we have more evidence of the huge growth in manufacturing and aviation," he said.
Reeve Link was elated to have the development located in Wheatland, and says council has been working hard to develop a business environment.
"Our council spent almost our entire last term cultivating this environment that I was referencing is conducive to development and investment attraction," she said.
"To put this into context, Wheatland County has a population of about 9,000 people, so a development of this size is monumental," she said. "This will have a profound effect on the future of Wheatland County… this is huge for Wheatland, southern Alberta, and rural Alberta. For a company to trust that it makes sense to move its headquarters to a rural municipality and to work with our stakeholders and residents, with our neighbouring municipalities, there aren't words to describe how much that means to our municipality."
The company will work with the county through amending the Area Structure Plan and rezoning for the development. McDonald said the project could begin work in early 2024, with a building open for assembly in 2025.