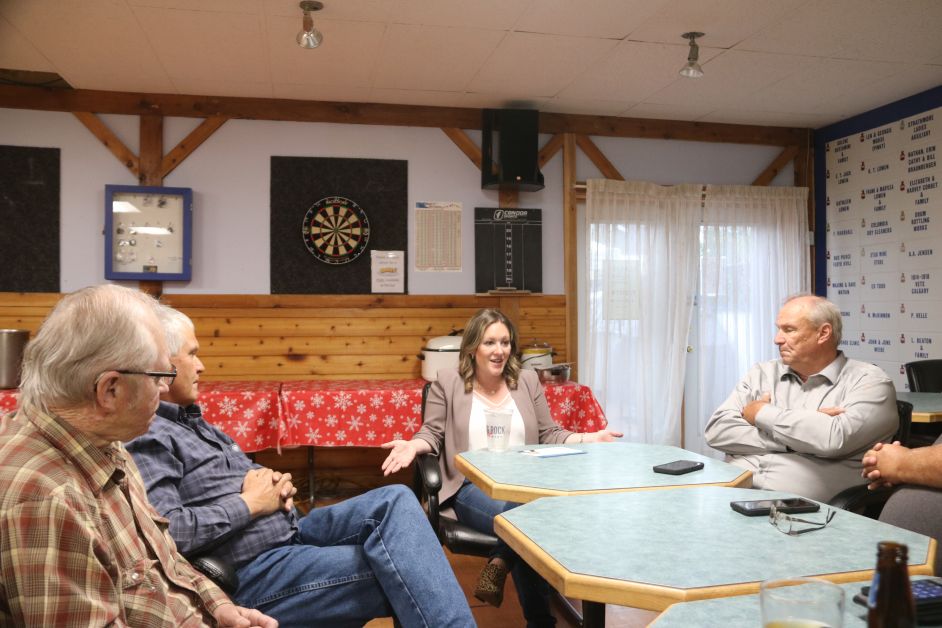 The race to succeed Premier Jason Kenney as leader of the United Conservative Party (UCP) continues as candidate Rebecca Schulz made a campaign stop in the valley.
Schulz was at the Drumheller Legion on Thursday, August 4, to meet with constituents and lay out her plans if she became leader.
"When I looked at what was happening, I honestly had to think about what is best for the future of Alberta, and I think the best thing for the future of Alberta is a strong united Conservative Party to be successful," said Shulz. "With the next election in 2023 to do that, we do need a leader who can, in fact, beat Rachel Notley and the NDP."
Schulz was elected in 2019 in the Calgary-Shaw riding and was minister of Children's Services. She resigned to run for leadership. One of her main focuses will be unifying the party.
"We talk a lot about unity. I don't think that is easy, It will be hard work, but I absolutely believe it can be done because I believe in my caucus colleagues, the MLAs across the province want to do a good job of representing the view of constituents, they want to make sure their voices are heard."
She says that means putting decisions back in the hands of caucus.
She feels she can represent Alberta well when dealing with Ottawa.
"Albertans do want to see a leader who can stand up and defend Alberta's place in confederation. I think that is not asking for anything special, it is just asking for what is fair," said Schulz.
In the race, Danielle Smith is pushing a Sovereignty Act as part of her platform, designed to assert Alberta's place in confederation by ignoring federal laws. Schulz doesn't have confidence in the proposal.
"When I look at this race, it is not easy to say this one bill is going to fix all of our problems. The Sovereignty Act is the one thing that people are talking about, it sounds good when you are angry, but it won't fix all of the problems," said Schulz. "There are areas we need to fight, like caps on fertilizer and caps on emissions, which is really a roundabout way of trying to cap production, those are areas of provincial jurisdiction where the resources belong to the people of this province. That is a fight we can win."
She says Alberta needs a strong leader to guide the province through this period of growth.
"We are seeing expansion and growth, and that is because our government did a lot of things well, especially at the beginning. They put the right things in place to position us to thrive. That said our government hasn't done everything right. I have also heard Albertans say they want to see a different tone, a different approach. In some ways, they feel we have gotten out of touch."
UCP members will elect a new leader on October 6.