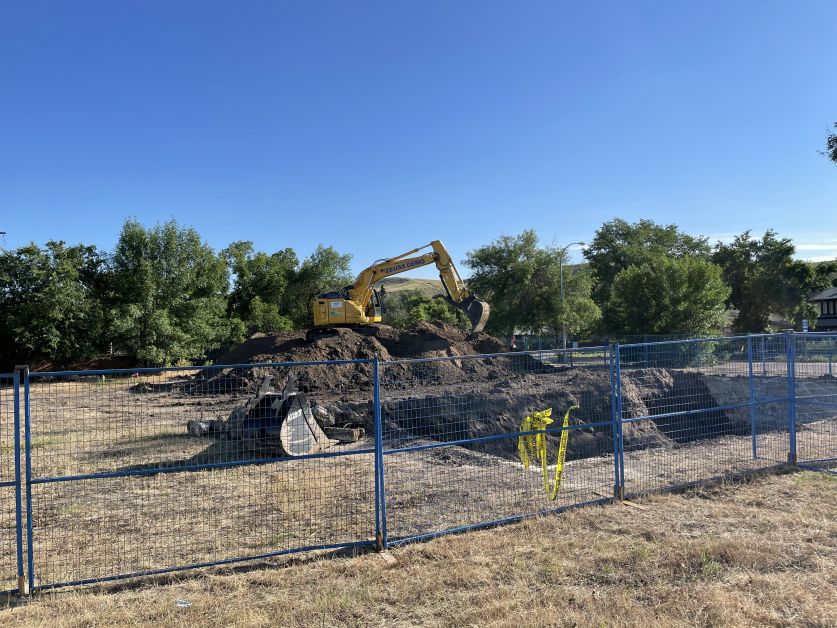 Town of Drumheller council awarded four contracts for construction on the Newcastle, Midland, Willow Estates, and North Drumheller Grove Plaza berms during the regular council meeting on Tuesday, August 2.
In June, council cancelled tenders for the Downtown Dike project due to costs for the project increasing beyond the previously approved amounts, and a full project redesign was recommended to reduce the top width of other berm projects–from six metres down to 4.5 metres, as well as reducing freeboard–to help reduce costs
Construction on the Newcastle Berm is expected to begin in mid-September with completion estimated for the end of November and is not anticipated to interfere with activities at the Newcastle baseball diamonds, including a tournament over the September long weekend.
A total of three bids were received from Pidherney's Inc, Kichton Contracting Ltd, and Wilco Contractors Southwest Inc, ranging from $2,269,114.16 to $2,989,750.
It was recommended to award the contract to Pidherney's Inc who submitted the lowest bid.
Flood Mitigation Program project director Deighen Blakely explained an engineering pre-tender estimate had been conducted for all four of the projects. With the exception of the North Drumheller Grove Plaza project, all the tender bids were found to be in line with the pre-tender estimate.
Ms. Blakely noted while the North Drumheller bid from Wilco Contractors Southwest Inc came in about $131,000 over the pre-tender estimate of $645,640 it was determined the bid was comparable against other submitted tenders.
As Wilco Contractors were the only bid for this project, at $786,350, it was recommended to award them the contract.
This project is anticipated to take approximately eight weeks to complete and is expected to be finished by early November. There is an estimated cost savings of 15 per cent following design revisions.
Three bids were received for the Midland berm tender from Wilco Contractors, Pidherney's, and Kichton Contracting. This project is expected to begin mid-August and is anticipated to take about 16 weeks to complete.
It was recommended the contract be awarded to Wilco Contractors, who submitted the lowest bid amount at a total tender amount of $3,786,125.
Ms. Blakely explained construction along this portion of the project will restrict access to the existing trail systems in this area for the duration of construction.
She also noted there is an estimated cost savings of 10 per cent for this project.
A total of two bids, from Wilco Contractors and Kichton Contracting, were received on the Willow Estates berm project.
There is currently no overall flood protection in the Willow Estates community, and the community would be susceptible to flooding in the event of a flood event at the 1,850 cubic metre per second (cms) level of protection determined by the province.
Due to the amount of work needed to build the berm, and place riprap for erosion protection, this project is expected to take the longest at an estimated 20 weeks.
Despite the lengthy construction time required, it is estimated construction will be complete by the end of 2022.
It was recommended to award the contract to Wilco Contractors for the amount of $2,950,925.
Although council voiced concern over Wilco Contractors' ability to complete the three projects on time, Ms. Blakely noted they had bid on all four and had hoped to be awarded all four contracts.
Council unanimously awarded the Newcastle project to Pidherney's Inc, and the remaining three contracts to Wilco Contractors.