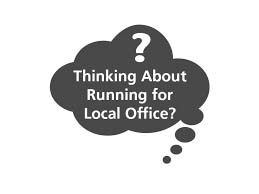 With municipal elections coming in October, and nominations open since January 1, the candidates are trickling in.
In Starland County, Returning Officer Sharon Coles tells the Mail Jackie Watt, incumbent for Division 4, has filed her nomination papers. Mark Landry has filed his nomination papers to run in Division 1. This is the Division that was served by Murray Marshall.
In Morrin, three candidates have put their hat in the ring, and two served on council before Municipal Affairs stepped in and appointed an administrator in December 2020. M'liss Edwards has filed her nomination papers, as has former Mayor Howard Helton. Dianna Lynn Helton has also filed her nomination papers.
CAO for Munson Lyle Caweizel tells the Mail, so far he has not received any nominations.
In Drumheller, incumbent Mayor Heather Colberg has decided to run again and is challenged by Ed Almond. Councillor Tom Zariski has also filed his nomination papers.
Candidate packages can be picked up at Town, County, and village offices, or downloaded from the community's website.