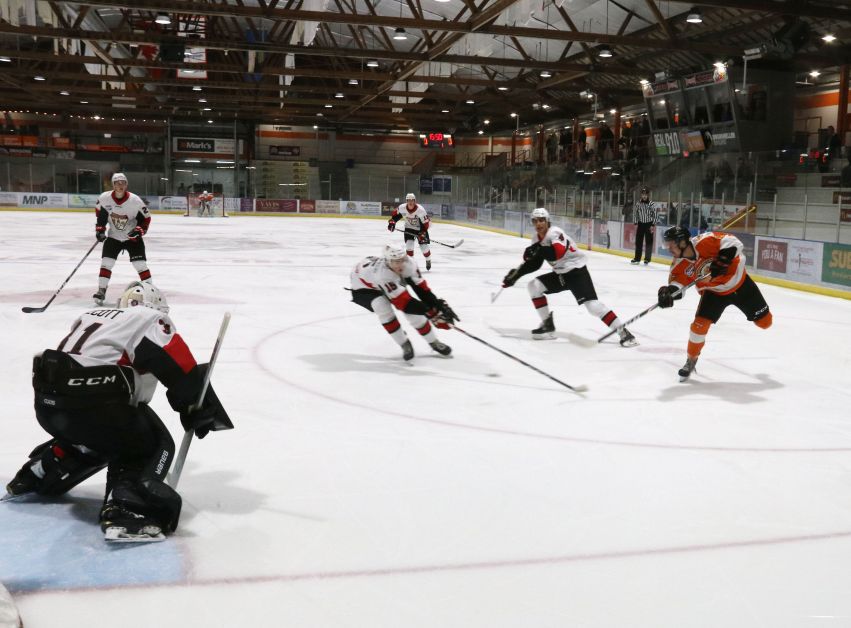 While the crowd at the Drumheller Memorial Area was sparse, it was also filled to capacity with COVID-19 restrictions in place. A crowd of 100 fans watched the Dragons play their first exhibition game of the season.
On Friday night, October 9, after more than seven months without competitive hockey, the Dragons hosted the Camrose Kodiaks, in the first game of the new exhibition season. The Dragons met the big veteran squad head to head with their youth and speed, making for a competitive first game of the season.
The Dragons had some good opportunities early, but were bogged down killing penalties early on. Despite this, they outshot the Kodiaks 8-7 in the first period and Hayden Prosofsky scored with 28 seconds left in the period on the power play. He was assisted by Tyson Gross and Luke Fennig. The Kodiaks came back in the second and scored two to win 2-1.
The Dragons were on the road for the first time this exhibition season on Saturday, October 10, to play the Kodiaks. This time Camrose jumped out early and by the end of the first period were leading 2-0.
The Dragons made it a game in the second period outshooting the Kodiaks 10-2. Myles Hillman put the Dragons on the scoreboard six minutes into the period, and then Sam Simard scored at the 13:13 mark assisted by Moe Hakim and Aiden Yakimchuk, and again at the 17-minute mark, again assisted by Yakimchuk and Grayson Dietrich. The Dragons took a 3-2 lead, however, the Kodiaks buttoned it up in the third period with two goals to win.
This Saturday, night, October 17, the Dragons are back home against the Kodiaks at 7 p.m.