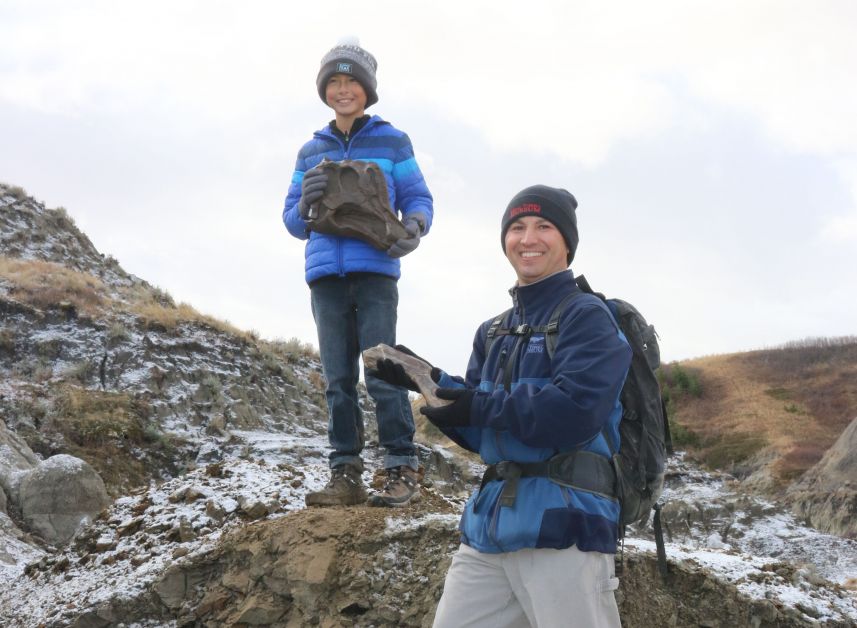 A 12-year-old boy made a dino-sized discovery in Horseshoe Canyon this summer that helps to fill in knowledge gaps about dinosaurs from this time period.
Nathan Hrushkin, 12, is an aspiring palaeontologist, and on July 12, he and his father were prospecting in Horseshoe Canyon, as they have for the last six years. They were at one site of interest in the portion of the canyon in the Nature Conservancy of Canada (NCC) Nodwell site. It was of interest because they had discovered small fragments in previous years.
"We were super excited about that, but we didn't figure they were from dinosaurs, we thought they were from some sort of mammal or something," Nathan explains. We came back this year with some friends of ours, and there weren't quite as many on the ground there in that offshoot of the valley, but my dad said 'if they were here on the ground, they were probably washing out from above.'"
Nathan hiked up the face and discovered about four bones sitting on the ground.
"Two were sticking out of the ground and two were just lying there," he said.
They took photos of the bones, and took GPS coordinates, and sent the information to the Royal Tyrrell.
Francios Therrien, curator of Dinosaur Palaeoecology at the Royal Tyrrell Museum immediately understood the significance of the discovery of the young hadrosaur, commonly known as a duck-billed dinosaur.
"We are in a part of the province where we actually have very few reports of fossils being discovered. We have fossils discovered in the Drumheller Valley or Dinosaur Provincial Park, but here is an isolated place and we have a gap in terms of fossil discovery," he explains. "The other point of this is the time interval represented by the rocks behind me, represents a gap of about 69 million years ago when we don't know what type of dinosaurs lived around here. So now the discovery Nathan made is of great significance because it fills this gap."
Due to the significance of the find, the Tyrrell made the decision to excavate the fossil for further study. Crews were in the isolated part of the canyon unearthing the specimen throughout the summer, and on October 15, removed the largest portions of the fossil to be taken to the Royal Tyrrell Museum.
Therrien said Nathan and his family did the right thing when they discovered the fossil.
"Nathan did the perfect thing when he made his discovery, he took photos of his find, took GPS coordinates of where he found it, and then he reported to the Royal Tyrrell Museum so a team could come here and investigate," said Therrien.
Carys Richards, communications manager for NCC's Alberta region, says one of its mandates is to connect Canadians to nature.
"We would encourage people to come out and explore this site, see what makes the Canadian Badlands so special, but please if you are coming out, be a good visitor and stay on the trails," she said.
"This is really exciting for NCC from a conservation perspective because when we talk about conservation we are focused on the benefit for future generations, but this is a really great reminder that protecting land doesn't only benefit the future but also helps unearth mysteries of our past."
Nathan is committed to keep exploring.
"We've been coming here for years, and every year we find something a little bit better than the last year, our only goal is to outdo ourselves from this year, and that might be pretty difficult," said Nathan.