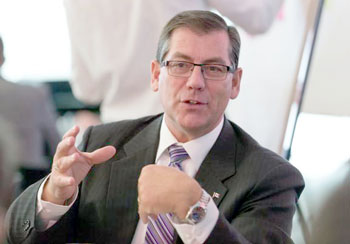 MP for Battle River-Crowfoot, Kevin Sorenson, says leadership is lacking at the federal level when it comes to the recent trade dispute between Alberta and British Columbia.
Last week Alberta Premier Rachel Notley lifted her ban on the sale of B.C. wine, which was put in place in response to actions by the BC government opposing pipeline development Sorenson says what is lacking is a strong federal presence.
"Our Prime Minister has had a hands-off approach and I think it has led to provincial conflict," Sorenson tells The Mail. "He promised us that he would meet more with premiers, and have more round tables with premiers and televise this, and national unity would only grow. In the last two years, we have seen more problems."
He recognizes that in the last few days there has been progress.
"There has been some amends, Notley said we would back off from the wine ban, and they are going to consider the bitumen thing, but again, it's a stall," he said.
He says that Premier Notley is confident that Alberta will win in front of the courts, as does he, however, it is the time involved that irks him.
"Courts take a long time," he said.
He adds there is a process that is in place to make sure these projects are dealt with fairly.
"We go through and have an independent scientific evidence-based decision-making process on whether a pipeline should go forward. Is it safe environmentally? Is it needed economically? Is it going to create jobs?" he said. "This has gone through all of that process and the National Energy Board has given it the check of approval, we gave it the check of approval and our current Prime Minister has is given it the check of approval, now it is just being stalled."
He adds that this is a national issue, beyond just a squabble between provinces.
"I think we will see that the Prime Minister's lack of stepping forward really threatens jobs, it threatens investment and that capital is just leaving Alberta," he said.
"In the long term, if there is no security around a simple decision, that capital doesn't come in, that investment isn't made and those jobs aren't created. That is why we are saying to the Prime Minister ' enough already,' you allowed the east-west one to stall, you allowed the Northern Gateway Project to stall only promising us that this one would go ahead, and now you are slow stepping up."
He adds that Alberta's industry supports the whole country.
"If Canadians understood the importance that all of these jobs have. It means people in my constituency will be working; it means they will be paying income tax provincially and federally. That is what funds our social programs, that is what funds our healthcare, that is what funds our old age security and education system," he said.